Sustainability Chat with Ásthildur Hjaltadóttir, Chief Sustainability Officer at GRI
In our Sustainability Chat series, we speak with leaders and dreamers in the world of sustainability – picking their brains on what drives them, their experiences working in the field, plus all the best tricks of the trade.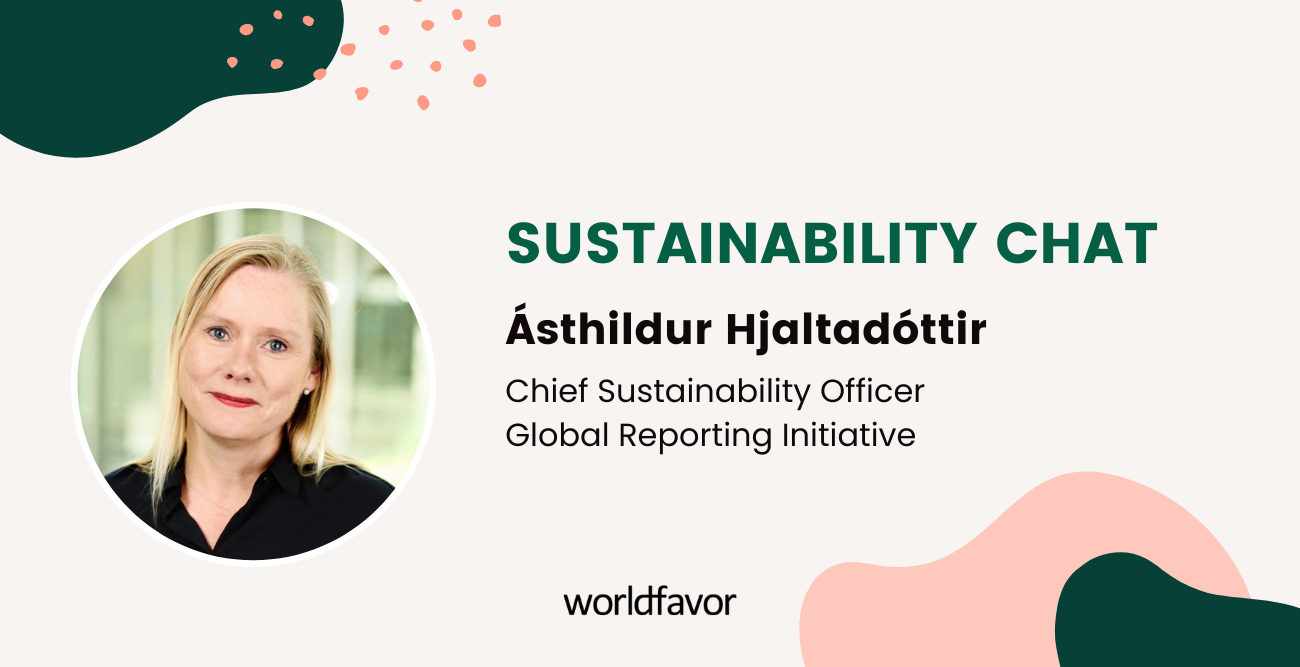 Background:
As Chief Sustainability Officer at GRI (Global Reporting Initiative), Ásthildur Hjaltadóttir oversees GRI's own sustainability reporting processes and internal knowledge management, as well as providing strategic advice to the GRI Networks and other parts of the organization. She is a member of GRI's Leadership Team and has been with the organization for more than 15 years in a wide variety of roles, including having previously managed GRI's report services, training, and coaching departments. Prior to GRI, Ásthildur worked in international development roles in Belgium and the Netherlands. She holds degrees in Political Science & Government and English Language & Literature from the University of Iceland.
The GRI Standards are the world's most widely used standards for sustainability reporting, adopted by leading companies in more than 100 countries, and referenced in policy instruments and stock exchange guidance around the world. Over 160 policies in more than 60 countries and regions reference or require GRI.
2022 marked 25 years since GRI was founded, and a lot must have changed during this time. What are the most significant changes we've seen in the reporting landscape over the years?
So much has changed during this time, it's difficult to know where to start! When I joined GRI in 2007, sustainability reporting was still a very new and "niche" practice. Companies that were reporting often had to explain why they were doing so and the purpose was not really understood, resulting in a lot of greenwashing, etc. Now, all these years later, things are of course completely different: sustainability reporting is a mainstream practice, with over 96% of the largest 250 companies in the world issuing sustainability reports – and of those, 78% use the GRI Standards for their reporting. All in all, we are aware of at least 10,000 companies around the world, from all sectors and sizes, that use the GRI Standards for their reporting.

For a long time, it was only GRI that provided guidance to reporting companies, first through the Guidelines, and since 2016, the GRI Standards. But what we have seen happen is that over the years, a multitude of other sustainability related frameworks and instruments have come into being, such as rating agencies, benchmarking, and industry specific guidance, to name a few. Also, regulators and stock exchanges have increasingly started to request sustainability related information from companies. Many of those require or recommend the use of the GRI Standards, and at the moment we are aware of 234 instruments in 104 countries that reference GRI for this purpose.

At the moment, the most notable initiatives are the new EU Standards and those coming from the International Sustainability Standards Board (ISSB), both of which GRI is closely engaged with. As part of the EU Green Deal, the Non-Financial Reporting Directive (NFRD) from 2014 has been updated, resulting in the new Corporate Sustainability Reporting Directive (CSRD) that will apply to all large companies in the EU, whether listed on stock markets or not, as well as non-EU companies with substantial activity in the EU (with a turnover over €150 million in the EU). In connection with the CSRD, the EU has also initiated the development of the European Sustainability Reporting Standards (ESRS), and the first tranche of standards has recently been released. And then during COP 26 in Glasgow in November 2021, the IFRS Foundation announced the establishment of the International Sustainability Standards Board (ISSB). The ISSB was tasked with developing sustainability reporting standards with focus on financial materiality, and they have recently issued the first two draft standards.
What has GRI accomplished in dealing with those changes?
As you can see, a lot has changed, especially in the last few years. GRI, as the pioneer of sustainability reporting, welcomes new players in the field and – in the name of harmonization and alignment – is always open to collaboration. As a sign of that, GRI has a co-creation agreement with the EFRAG (European Financial Reporting Advisory Group) that has been tasked with the development of the ESRS, as well as an MoU with the ISSB to ensure alignment between the GRI and ISSB Standards. We have also strengthened our global presence and now have six regional offices located in Bogotá, Hong Kong, Johannesburg, New Delhi, New York, and Singapore to ensure that we are able to engage with reporters and other stakeholders worldwide as the uptake of sustainability reporting continues to grow.
What are the biggest challenges when it comes to sustainability reporting and how can businesses overcome them?
For new reporters, I believe the biggest challenge is to figure out where to start. The newly updated GRI Universal Standards provide excellent guidance on how to get started and determine where the company's biggest sustainability impacts are, through materiality assessment and stakeholder engagement. So I would definitely recommend that new reporters use this to help them on the way. GRI also offers a variety of support services for reporters. They may of course come to the conclusion that they don't have all the required information in-house, but that shouldn't be a reason not to get started. This is actually quite normal, and the disclosures in the GRI Topic and Sector Standards will help to create KPIs, goals, and targets moving forward.
For all reporters, working out what the purpose is of the various different sustainability initiatives and instruments out there, what is sometimes referred to as "the alphabet soup," can be confusing. But when it comes to sustainability reporting, there are in fact only two reporting standards available at the moment: the GRI Standards (for impact reporting) and the SASB Standards (which are being incorporated in the ISSB standards, covering financially-material information). My advice to all reporters is to stay focused and concentrate on issues where your company has the biggest sustainability impact. And remember to first focus on the impacts you are responsible for on the environment, economy, and society – before considering impacts this may have on your company.
How does GRI work together with other relevant actors, such as IFRS and EFRAG, to reach globally standardized sustainability reporting?
As a provider of the world's most widely used reporting standards for sustainability impacts, we recognize the important role we have in driving collaboration to raise comparability and quality of reporting, while at the same time reducing unnecessary reporting burden on companies. As already mentioned, we are working closely both with EFRAG and ISSB in their standards development. In addition to that, we also have a working relationship with many other organizations and initiatives in our field, such as the Sustainable Stock Exchange Initiative, the UN PRI, OECD, and the UNGC to name a few.
If we look at current trends in the reporting landscape, where are corporate sustainability and ESG reporting headed?
These are very exciting times when it comes to sustainability reporting, especially for GRI – which in 2022 marked a quarter of a century as the leader in sustainability reporting. We strongly believe that sustainability and financial reporting are the prerequisite for getting a holistic understanding of a company's impact on sustainable development, and therefore these two pillars, as they are often referred to, should be seen as equally important. We believe that the emergence of the ESRS and the ISSB Standards will put in place the global reporting system needed for this. GRI will continue to update existing and develop new sector and topic specific Standards – it's a continual and ongoing process as we progress on the journey towards a more sustainable future.
Related blog post you might like: