What are the GRI standards?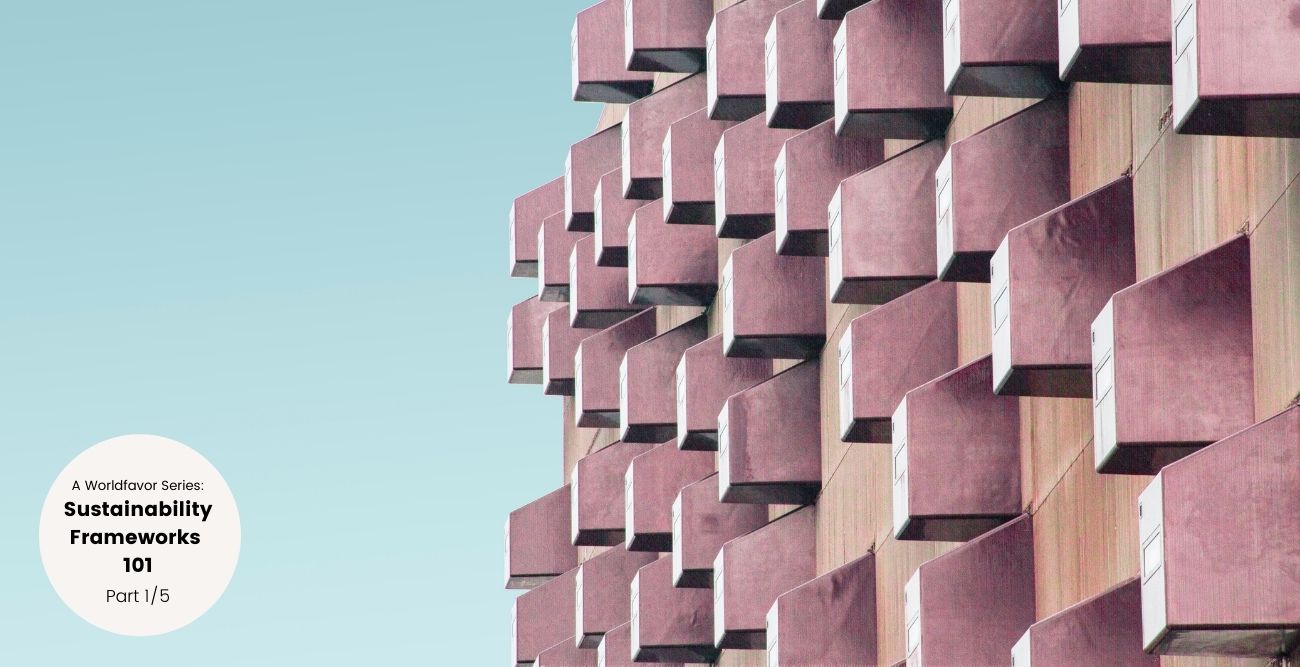 In our newly launched five-part series, Sustainability Frameworks 101, we'll cover some of the most commonly used sustainability frameworks for businesses. This series is set to provide you with the fundamental information about each framework – what they are, how to use them, and why they're important!
---
Let's face it – there is no such thing as "being a natural" when it comes to reporting. You need to invest your time, develop your knowledge, and know what stakeholders' expectations are. Many organizations don't know where to start when it comes to sustainability reporting – it's possible to report on just about anything today. Luckily, organizations like The Global Reporting Initiative (GRI) provide businesses guidance to steer their sustainability reporting in the right direction.
Their standards – the GRI Standards – have become the leading global standards for organizations to report their economic, environmental, and social impact. In 2017, 75% of the largest companies in the world reporting on sustainability used GRI, and more than 130 policies in over 60 countries reference the GRI Standards. To help you get a grip on the GRI standards, here are some of the most frequently asked questions about GRI reporting and helpful resources to get you reporting according to the GRI Standards.
"75% of the 250 largest companies in the world reporting on Sustainability use GRI"
---
What is the GRI – global reporting initiative?
The Global Reporting Initiative (GRI) was founded 1997 and is an independent, international, and non–profit organization. The GRI both provides a platform to promote and share research globally, and works together with businesses, investors, policymakers, and other organizations to help them communicate and report their sustainability work. The GRI is one of the leading universal standards of sustainability reporting. With over 100 reporting standards, GRI enables businesses and stakeholders to take responsibility and make more sustainable decisions.
---
What is the purpose of GRI Reporting?
The GRI Standards are the most widely used and trusted frameworks for reporting on sustainability. They have been adopted by the world's largest organizations and are used in stock exchanges and policy instruments globally. By providing a universal language for sustainability reporting, it helps companies benchmark their progress and communicate their efforts effectively. By better understanding negative and positive outcomes, and managing and disclosing your business' impact, you can enhance stakeholder relationships, identify business opportunities, and reduce potential risks.
How many GRI standards are there?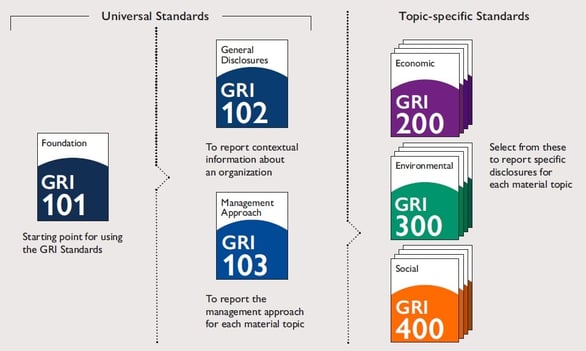 The GRI Standards are categorized into a set of modules which can be referenced and used together. The three core modules – known as the GRI's 100 series – are the Universal Standards that can be applied in every business preparing its sustainability report. They are the following:
GRI Standards 101: Foundation
GRI Standards 102: General Disclosures
GRI Standards 103: Management Approach
The Topic Standards are the set of modules which are organized into three series that help businesses in their reporting of specific disclosures for each material topic. The three series are:
GRI 200: Economic Topics
GRI 300: Environmental Topics
GRI 400: Social Topic
Creating your sustainability report in alliance with the GRI Standards will ensure that stakeholders and others of interest will share a common understanding of your efforts. Did you know that you can download the standards – free of charge – at the GRI official website?
How to use the GRI standards?
As mentioned above, the standards are structured as a set of modules – this makes it possible for organizations to use selected parts and customize the frameworks dependent on what their focus area or priority is. There are two recommended approaches for using the GRI Standards:
Using the GRI Standards as a whole set to prepare your sustainability report in accordance with the standards
The GRI Standards were primarily developed to be used as a whole set in order for organizations to be able to adopt a standardized framework for their sustainability reports based on its principles for three material topics – Economic, Environmental, and Social. To use the GRI Standards as a whole for sustainability reporting, an organization is required to use the three standards in the Universal series (100) and only the topic standard (series 200, 300 and 400) that is related to the specific

material topic identified

.


Using only selected standards or part of their content to report specific information without preparing a report in accordance with the Standards
With this approach, often referred to as GRI-referenced claim, an organization can choose specific parts of the standards according to what is most needed for its report.
Note that for each of these reporting approaches, businesses are required to include a statement of use in any report or published material based on the Standards. Learn more about how to use the corresponding claim here.
How Worldfavor can help
Worldfavor enables you to take control of your data and create a smart sustainability reporting process for yourself, your colleagues and your partners. With Worldfavor you will easily overview and manage sustainability performance, save time by automating data collection, and align with global frameworks such as GRI. Thanks to automatic linkages between established global frameworks, your selected GRI disclosures will be automatically linked to other frameworks such as the SDGs and the Global Compact. Read more about our Sustainability Management solution here!
Related blog posts you might like: