All the sustainability reporting legislation you need to know in 2023
At this point, companies can no longer turn a blind eye to the ever-increasing pile of sustainability reporting laws and regulations popping up all over the world. To help you get totally prepared for the year ahead, we've gathered some of the major ones going into effect in 2023.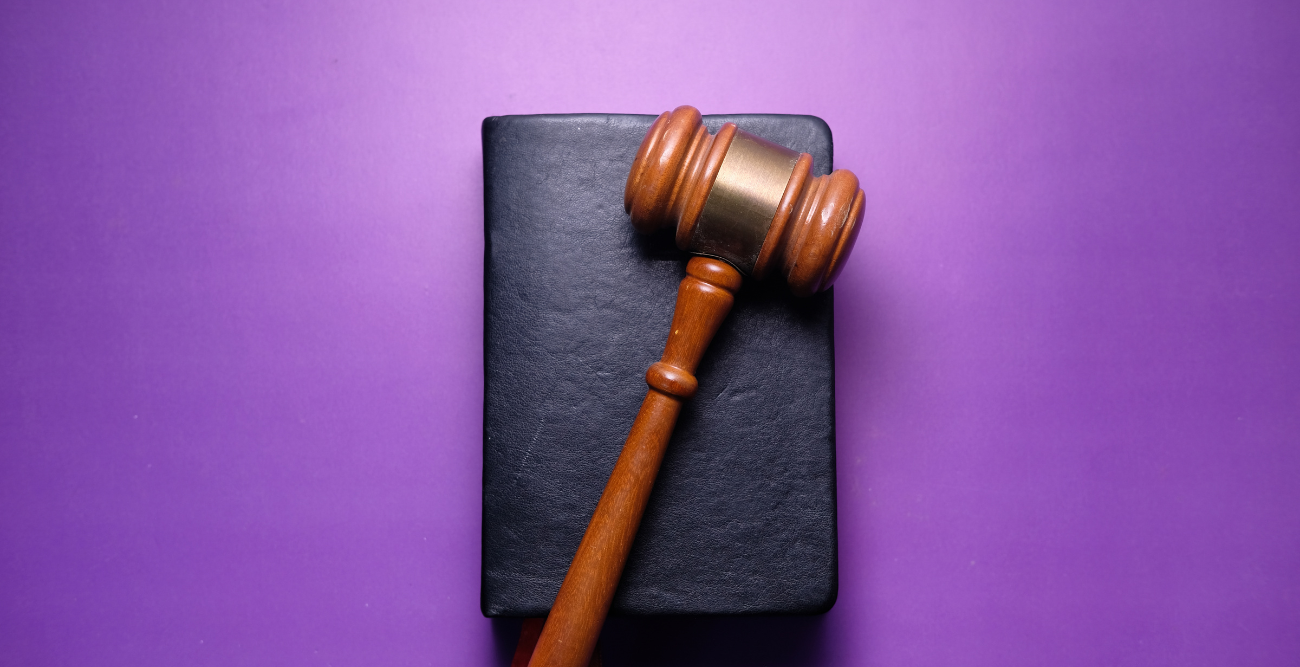 Published: January 2023
In the last few years, new initiatives addressing corporate sustainability reporting have been on the upswing across jurisdictions in many regions. From sweeping policies that target global warming down to local legislations tackling human rights issues – a lot has already happened. And even more will happen in the years to come.

However, making sense of the tangle of laws and regulations is no easy task. To help you keep it all straight in 2023, we'll cover some of the most important ones here.

Without further due, let's dig in.
The EU's Sustainable Finance Disclosure Regulation (SFDR) enters its level 2 phase and becomes mandatory
Organizations affected: Investors and other financial market participants (FMPs)
Important dates to know: January 1st, 2023 (the day it becomes mandatory)

What is it?
The EU's Sustainable Finance Disclosure Regulation (SFDR) came into force in March 2021, but it didn't become mandatory until January 1st, 2023 when it finally entered the level 2 phase. From this point on, in-scope FMPs will be obliged to comply with the set disclosure requirements, including:
Collecting relevant data from portfolio companies and other entities

Implementing the reporting templates (also known as Principle Adverse Impact indicators)
Align your reporting process with the content and methodologies laid out by the regulation


How Worldfavor can help:
Kick-start your SFDR reporting process with our Sustainable Investments solution! It allows you to collect, aggregate, and analyze all relevant data from your portfolio companies in order to comply and report on time.

​​With ready-to-use SFDR questionnaires, built-in equations that calculate the results for you, and a dedicated place to do your bespoke data sets (for articles 8 and 9 funds), the platform basically does the work for you. Sounds interesting? Learn more about it here!


The EU Taxonomy: Taxonomy-alignment disclosure becomes mandatory for large companies
Organizations affected: Large companies and FMPs offering products and services within the EU)
Important dates to know: January 1st, 2023 (the day it becomes mandatory to report on the EU Taxonomy alignment)

What is it?
While the EU Taxonomy has been around for a while now (since 2020 to be exact), large companies haven't been obliged to report on their Taxonomy alignment until January 1st, 2023. This means that from now on, organizations must publicly disclose to which degree (percentages) their turnover is taxonomy-aligned, i.e. fulfills the EU Taxonomy criteria on what is considered a "green" or "sustainable" economic activity.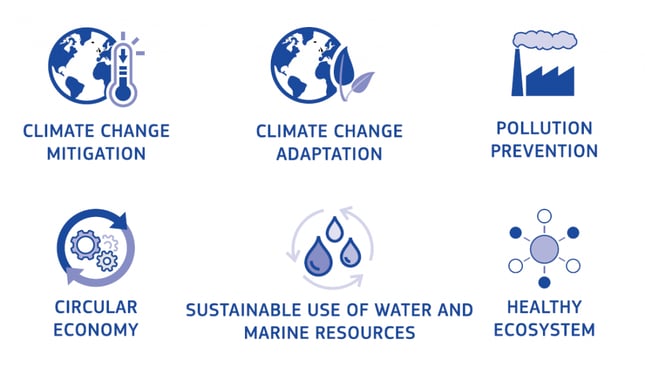 The six Taxonomy environmental objectives.
On top of that, from 2023, it will be mandatory to disclose each economic activity's alignment with the Taxonomy's six environmental objectives. Before, it was only required to disclose the alignment for the first two: climate change mitigation and climate change adaptation – but now companies will have to answer for all six.
How Worldfavor can help:
Need a hand navigating the EU Taxonomy? Download our EU Taxonomy guide here (which includes a test to see if you're affected), or book a demo and see how we can help you implement your Taxonomy reporting in Worldfavor today.
The EU's Corporate Sustainability Reporting Directive (CSRD): enters into force on January 5th, 2023
Organizations affected: All listed companies on EU-regulated markets (without listed micro-enterprises)
Important dates to know: January 5th, 2023 (the day the CSRD came into force); June 30th, 2023 (the day the directive's mandatory sustainability reporting standards will be finalized)

What is it?
The most extensive sustainability reporting directive ever presented by the EU enteres into effect in January 2025, covering the fiscal year 2024. The directive's first set of mandatory sustainability reporting standards will also be finalized this year – by the 30th of June, 2023 at the latest.

Because the CSRD will cover all listed companies in EU-regulated markets (except listed micro-enterprises), it's not a bad idea to start getting familiar with it. The sooner you get CSRD-compliant, the better prepared you'll be for 2024 (and it'll be here before you know it!)

How Worldfavor can help:
Did you know that the requirements for CSRD's sustainability reporting standards will be implemented in Worldfavor as soon as they're finalized? That way, you can be sure you're successfully compliant. Want to know more? Contact us now, and we'll give you the scoop.


International Sustainability Standards Board (ISSB) to finalize their standards in Q1 2023
Organizations affected: Investors and portfolio companies
Important dates to know: Q1 2023, January-March (during which the standards will be finalized)

What is it?
You've probably already heard some buzz about these in 2022: the ISSB Sustainability Reporting Standards (ISSB). The ISSB standards are a set of upcoming sustainability reporting standards proposed by the International Sustainability Standards Board, developed to meet the urgent need for a comprehensive global baseline of corporate sustainability reporting. Many experts in the industry are saying that these standards are the solution to the current "alphabet soup" of the sustainability reporting landscape, finally standardizing it for good.

The ISSB's first two standards, one on climate and one on general sustainability-related disclosures, are set to be finalized in Q1 of 2023 (as early as possible). After that, investors and other stakeholders demanding comparable and transparent ESG data are expected to start requiring companies to provide information according to the standards.
How Worldfavor can help:
For businesses and investors who want to keep up with the pace of progress – you don't need to wait for the standards to be finalized to begin working with your data. You can already collect, manage, and report all of your sustainability information easily in Worldfavor. Let us show you how!

The German Supply Chain Due Diligence Act (the LkSG) enters into force
Organizations affected: German and non-German companies with more than 3,000 employees are covered by the Act. The scope will broaden to companies with 1,000 employees starting in 2024.
Important dates to know: January 1st, 2023 (the day the Act goes into effect)

What is it?
Don't get tricked into thinking the newly-adopted Supply Chain Due Diligence Act only applies to German companies. While the Act (also known as Lieferkettensorgfaltspflichtengesetz, or LkSG) was adopted by the German government, it also aims to uncover human rights violations in international supply chains, obligating all companies selling goods or products in the German market to set up a due diligence process.

Companies that fail to comply or submit the required documentation risk facing fines and sanctions; for example, fines up to 2% of their annual turnover for larger
companies, exclusion from public contracts for up to three years, and damage to reputation and trust.

How Worldfavor can help:
Collect your data and set up your supply chain risk assessment in Worldfavor to get LkSG-compliant in no time. The platform helps you to easily collect and analyze hard-to-reach information from suppliers, and those insights are visualized neatly in your Worldfavor dashboards.

Learn more on how to set up a due diligence process to comply with the Act in our fresh-off-the-press guide:
Stay up-to-date with laws and regulations with Worldfavor – all year round
Worldfavor's sustainability platform enables companies to smoothly collect, manage, and calculate the data they need to comply with various sustainability reporting legislations. Already, Worldfavor has key sustainability reporting frameworks built into the platform (like the SFDR and the GRI) and it's continually updated in real time as new legislation kicks in (we're looking at you, CSRD!). We'll keep you updated on all the impending laws and regulations, supporting you every step of the way to compliance. Sounds like a tool your organization would benefit from? Let us tell you more!

Related blog posts you might like: