ESRS, ISSB, and SEC standards: a simple comparison guide
In 2022, sustainability reporting took a big leap forward with ESRS, ISSB, and SEC making their debut. Get to know the key differences between these standards and why they are considered the future of ESG reporting.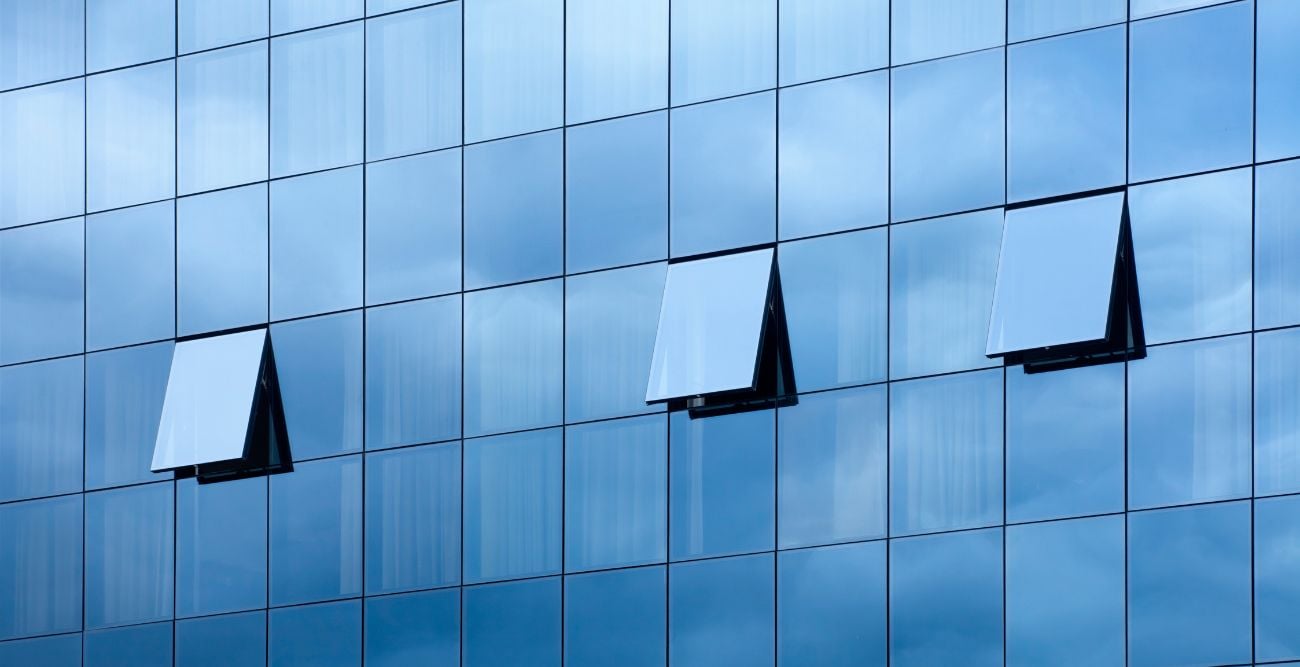 Updated: July 2023
For years now, businesses and investors have called for a simplified sustainability reporting landscape. And at last, it might actually happen.
In 2022, three proposals were introduced for standardized sustainability disclosure: the EU's European Sustainability Reporting Standards (ESRS), SEC's proposed climate disclosure rule in the US, and ISSB's Sustainability Reporting Standards for global capital markets.
In this blog, we've put together a short and sweet summary of these standards. What are the similarities and differences between them? How will they affect your business? And how can you best prepare for them?
What's the difference between the ESRS, ISSB, and SEC standards?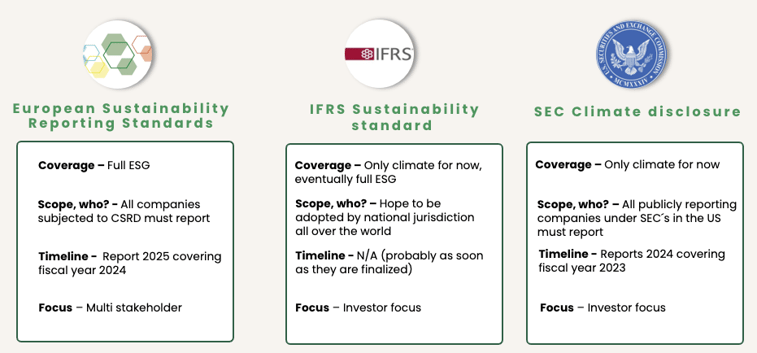 … And let's have a better look into each of the standard proposals:


What are the European Sustainability Reporting Standards (ESRS)?
The European Sustainability Reporting Standards are the new mandatory standards that companies subjected to the CSRD will be required to comply with. The European Commission (EU) introduced these standards to ensure that corporate sustainability reporting within the EU becomes comparable, relevant, and reliable – and make it clear for the reporters what they are expected to disclose on.

The standards are currently under development by the European Financial Reporting Advisory Group (EFRAG)and are expected to become mandatory from 2024.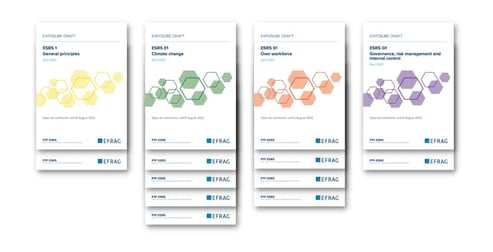 Which companies will be affected by the ESRS?
All companies covered by the EU Corporate Sustainability Reporting Directive (CSRD) will be required to align their corporate sustainability reporting according to the ESRS. These companies are:
All large companies, regardless of capital market orientation, with:
more than 250 employees;
more than 40 million EUR in net turnover;
20 million EUR in assets.


Listed Small and medium-sized enterprises (SMEs) that meet the following criteria:
more than 10 employees;
more than 700 00 EUR in net turnover;
350 000 EUR in assets.


When will the ESRS become mandatory?
The implementation of the ESRS will be phased in depending on the size of the company:
1st January 2024: Large companies with over 500 employees that are already subject to the Non-Financial Reporting Directive (NFDR). Reports to be published in 2025.


1st January 2025: Large companies that weren't previously subject to the NFDR. Reports to be published in 2026​.


1st January 2026: Small and medium-sized enterprises (SMEs). However, they will have the option to opt out of the reporting rules until 1st January 2028.

1st of January 2028: Non-EU-country companies that have a net turnover exceeding 150 million EUR in the EU and at least one subsidiary or branch in the EU.


Want to more? Don't miss out on our CSRD timeline blog here.


What are the ISSBs - the IFRS Sustainability Disclosure Standards?
During COP26 in 2021, the International Financial Reporting Standards (IFRS) announced the formation of a new standard-setting board: the International Sustainability Standard Board (ISSB). The new board was created in response to the growing demand for standardized information about corporations' sustainability-related risks and opportunities.

In 2023, the ISSB issued its two first standards — one on general requirements and one on climate.

ISSB has also announced its intention to develop further standards, both thematic and industry-based requirements in the future.
The announcement of the international sustainability reporting standards has been welcomed by stakeholders, including the G20 and UN, as it will provide a global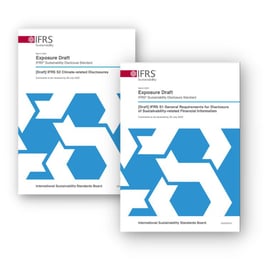 baseline on what and how to disclose ESG information for organizations worldwide.
When will the IFRS Sustainability Disclosure Standards come into effect?
IFRS S1 and S2 were launched in June 2023 and will therefore be applied for annual reports starting in January 2024. This means that companies will start following these standards and making relevant disclosures in 2025.

What is the SEC's climate disclosure rule?
In March 2022, the US Securities and Exchange Commission (SEC) proposed a new rule to add standardized climate reporting disclosure for public companies. The proposed rule requires companies to annually provide certain climate-related information, including their governance on climate-related risks and how climate risks are identified, assessed, managed, and disclosed.
Given the absence of strong accountability and overview of ESG reporting in the United States – particularly in comparison to the accelerating rate of new and stricter mandatory disclosure requirements in the EU – this proposal is seen as an important and urgent game-changer on U.S. capital markets.
Which companies are covered by the SEC's climate disclosure rule?
SEC's climate disclosure rule will apply to all SEC registrants – including non-US companies. However, companies classified as smaller reporting companies will have limited reporting requirements, and their phase-in period starts later compared to larger companies.

When will the SEC's climate disclosure rule come into effect?
The final compliance date will be phased in depending on whether a company classifies as a large accelerated filer, accelerated or non-accelerated filer, or smaller reporting company:
For large accelerated filers: reports filed in 2024 for the fiscal year 2023
For accelerated and non-accelerated filers: reports filed in 2025 for the fiscal year 2024
Smaller reporting companies (SRCs): reports filed in 2026 for the fiscal year 2025
Tracking and reporting on Scope 3 emissions will not be required until the second fiscal year for in-scope registrants. In the current proposal, only the small reporting companies are exempted from the Scope 3 disclosure requirements. However, as the proposal is still under process, with potential changes still being debated, it's still not certain what will be required when it comes to scope 3 emissions.
Start your sustainability reporting process with Worldfavor
Do you need help setting up your sustainability reporting process in order to align with the ESRS, ISSB, or SEC's standards? Set up a smooth process with Worldfavor's platform to easily access ESG data, drive transparency, and reach ambitious sustainability goals from one place- saving you both time and confusion! Want to learn more? Book a demo now!
Related blog posts you might like: