What are greenhouse gases (GHG) and how to minimize emissions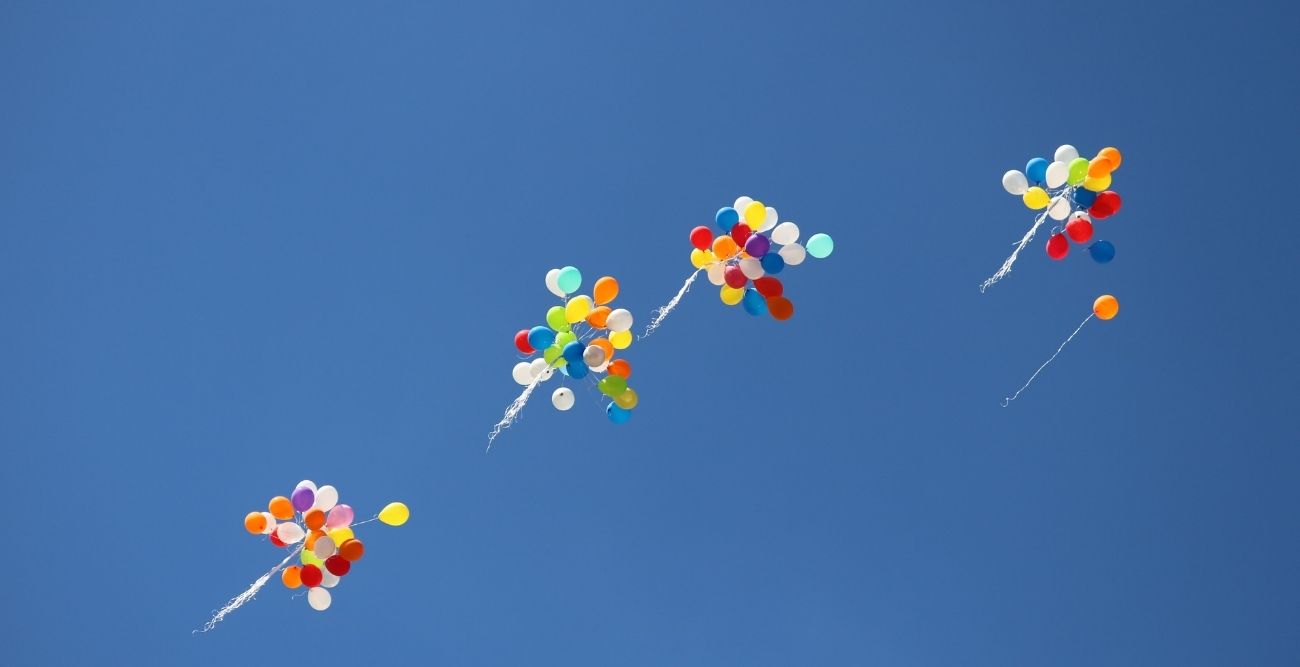 Most company stakeholders today understand the importance of their organization doing its part to minimize their carbon footprint and fighting climate change. But like with all complex topics, there can be confusion about how to minimize a company's greenhouse gas emissions.
The impact of greenhouse gases and the significance of a company — no matter its size or industry — taking steps to reduce them can be surprisingly misunderstood.
So here's a breakdown of greenhouse gas emissions and minimization that can be used to help explain and clarify to any level of management, executive, and c-suite.
---
To learn about how your organization can calculate its emissions, watch our free on-demand webinar: Calculate and Measure your Environmental Footprint (GHG)
---
Greenhouse gas emissions: the basics
Greenhouse gases (GHGs) are gas compounds in the Earth's atmosphere that trap heat in what's known as the greenhouse effect. Their natural occurrence helps make the planet habitable. GHGs emitted by human activity, like burning fuels and farming, are greenhouse gas emissions. They increase the amount of GHGs in the atmosphere, which increases warming by the greenhouse effect enough to change the climate.
There are four main greenhouse gas emissions to know, each one derived from different sources and with its own unique features.
1. Carbon dioxide
Probably the most well-known GHG emission, carbon dioxide is released mainly from the burning of fossil fuels. It's most often emitted by the energy and transportation sectors, as well as some manufacturing industries, and it can stay in the atmosphere for hundreds of years.
Carbon dioxide is also the GHG emission with the highest atmospheric concentration, which is calculated using data collected by a mix of global monitoring stations and satellites. The current atmospheric concentration of carbon dioxide is 415.24 parts per million (ppm), which means there are just over 415 molecules of carbon dioxide for every million molecules of air in the atmosphere.
2. Methane
Methane is released from landfills, natural gas, and petroleum industries, as well as the agriculture industry's livestock sector. Methane stays in the atmosphere for about 12 years, and in November of 2020, it made up 16% of the world's greenhouse gas emissions.
Methane is also more efficient at warming the planet than carbon dioxide. The essential measurement of greenhouse gas is its global warming potential (GWP), which indicates how much heat the gas traps when it's in the atmosphere. Methane's GWP is 25, which means it's estimated to be about 25 times more efficient than carbon dioxide.
3. Nitrous oxide
Mainly emitted by the agriculture industry through fertilizer, manure, and burning biomass, Nitrous oxide accounts for 6% of all GHG emissions. Its atmospheric concentration was registered as 333.6 ppb in November 2020. But it has a GWP of 294 at trapping heat. So, while much less prevalent than methane, it's more than ten times as efficient.
Nitrous oxide also has an atmospheric lifetime of 114 years, which is calculated to determine the average timeframe in years it would take to be naturally removed from the atmosphere.
4. Fluorinated gases
Also known as "F-gases", these are a group of completely man-made greenhouse gases that include hydrofluorocarbons, perfluorocarbons, and sulfur hexafluoride. A large portion of them, like hydrofluorocarbons, are emitted by coolants used in things like refrigerators and air conditioners, and others, like perfluorocarbons, are released by manufacturing and industrial processes.
Unlike other GHGs, F-gasses have atmospheric lifetimes that are hundreds of thousands of years and their GWPs range from 12,000 to more than 22,000. As of November 2020, the atmospheric concentration of sulfur hexafluoride, one of the main fluorinated gases, was registered as 10.39 parts per trillion (ppt).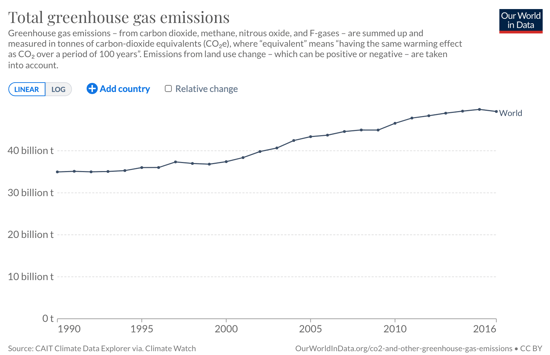 Global greenhouse gas emissions, Our World in Data: "Today, we collectively emit around 50 billion tonnes of CO2e each year. This is more than 40% higher than emissions in 1990, which were around 35 billion tonnes."
Why companies need to minimize greenhouse gas emissions
Because of the massive scale of greenhouse gas emissions and their effect on the climate, there needs to be a large-scale societal response. Environmental messaging has traditionally focused on individual actions, but it has shifted in recent years to include companies and organizations. And with good reason. While individual responsibility is still important, the actions that a company takes to reduce GHG emissions are more impactful.
Take a construction company building a large office building, for example. Such a project produces a large amount of greenhouse gas emissions. But that company can make specific choices that reduce a calculated amount of emissions, like using green alternative building materials or implementing an energy-efficient design. And while each decision may seem to only reduce a small amount, it can be equal to more than what a single person can do in a lifetime.
And all those choices and their impacts add up.
There are also government policies that are motivating factors. The majority of actions by national governments to cut greenhouse gases and fight climate change revolve around the 2016 Paris Agreement, in which 196 countries pledged to reduce greenhouse gas emissions with their own specific goals by the year 2030.
In an effort to meet those goals, several countries have introduced a variety of policies to encourage companies to minimize their GHG emissions. These can be punitive, like carbon taxes which require companies whose operations emit greenhouse gases to pay financial penalties. They can also be supportive, like government programs that advise and even subsidize large-scale transitions that reduce GHG emissions.
How to minimize greenhouse gas emissions as an organization
The key to any company or organization cutting their greenhouse gas emissions is first understanding the full impact of their operation. This is done through the use of a calculation framework. It's a toolset that applies known GHG emissions of specific activities to an organization's actions and calculates the greenhouse impact.
There are several groups that provide frameworks and help companies use them, but a few are more common than others.
Greenhouse Gas Protocol
One of the most recognizable names helping businesses and governments to be able to measure and manage their greenhouse gas emissions, Greenhouse Gas Protocol (GHG Protocol) provides a wide variety of resources and training. GHG Protocol began operating in 1998 and is most well-known for its scope 1, 2, and 3 emissions classifications. Scope 1 accounts for a company's direct GHG emissions and scope 2 for its indirect emissions that it controls (like electricity usage), while scope 3 refers to indirect emissions that the company doesn't control.
Science Based Targets
Another major organization that creates frameworks is Science Based Targets. It's an initiative that focuses on helping the corporate sector meet the goals of the Paris Agreement by showing companies the amount of their GHG emissions, advice on how to lower them, and even the time frame they have to do so to prevent their effects on the globe.
Learn more in our blog post What You Need to Know About Science Based Targets.
CDP
A global organization that works with investors, companies, and local governments to become more sustainable, CDP measures and reports its environmental impact. With offices and partners all over the world, they work to urgently improve the climate.
How to start tracking your emissions
Once a company has a framework to understand their GHG emissions, they can then find aspects within their operation to reduce or replace with alternatives — and lower the greenhouse gases they're putting into the atmosphere. It's best to start with targets and goals of which GHG emissions to reduce and by how much. The framework can then be used to find insight on actions to take to reach those targets.
Many organizations focus first on their energy consumption, performing an audit to find out where the majority of the power your company uses comes from, and then finding and switching to a vendor who uses renewable resources. Others look at their supply chain to find where to curb the most GHG. Some even explore options internally, like creating stay-at-home positions or organizing carpooling, that can help lower emissions.
But how a company chooses to minimize greenhouse gas emissions depends on its business, industry, its regions, and more. Any organization can reduce its GHG emissions and even reach a net-zero carbon footprint — in which, through strategies like reduction and carbon offsets, a company's GHG impact has been neutralized to an equivalent of none.
To get started straight away with calculating your organization's GHG emissions, get in touch with our experts. Book a demo to learn all about how Worldfavor's solutions can help you track your emissions, how you perform in relation to international reporting standards and minimize your overall impact.
Related blog posts you might like: