Sustainability Chat with Hanna Wennberg at Adapteo Group
In our Sustainability Chat series, we speak with leaders and dreamers in the world of sustainability – picking their brains on what drives them, their experiences working in the field, plus all the best tricks of the trade.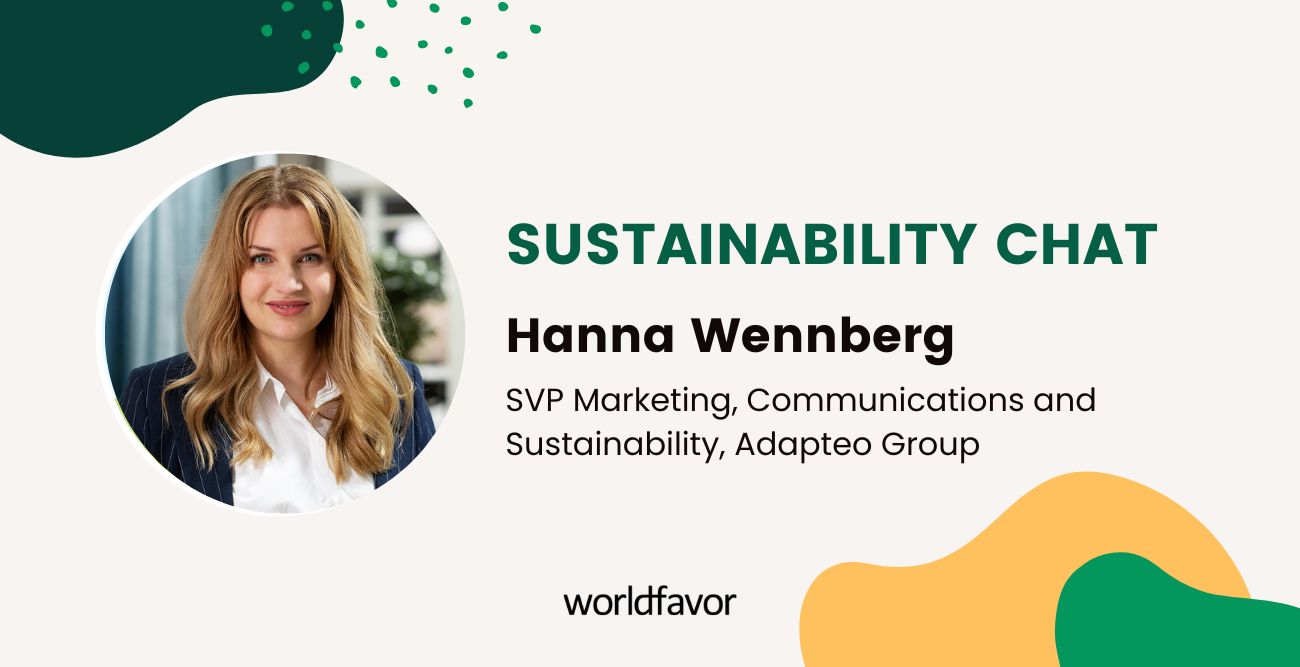 The construction and real estate industry faces many challenges when it comes to sustainability. That is why we're thrilled to have had a sit down with Hanna Wennberg, the SVP of Marketing, Communication and Sustainability at Adapteo Group. Adapteo Group works to become the most sustainable company in the industry and we're super excited to get some insights into their industry-breaking work. In this chat, Hanna goes through Adapteo's ambitious sustainability strategy and what the industry must do in order to build a more sustainable future.
Can you tell us more about Adapteo's sustainability strategy and work?
–Adapteo has a circular business model, as our buildings are reused. For example, a building that is a school today can become an office tomorrow. Our buildings also can easily be scaled up and down when people's needs change, which means that we also contribute to more inclusive societies. Adapteo builds in wood, which has a much smaller climate impact than steel and concrete – which the traditional construction industry largely still relies on. Our Sustainability strategy focuses on climate-smart buildings, innovation for sustainability and inclusive societies, and we have a high focus on business ethics, transparency, human rights and contributing to UN SDG's.
What do you see as the main sustainability trends in the real estate industry right now?
–The big question is how to reduce the climate impact. The construction and real estate industry accounts for large emissions that must be radically reduced in order for us to reach both Agenda 2030 and the Paris Agreement. Today, society focuses a lot on emissions from a building in use - and of course, it should be as climate-smart as possible, but we must also take greater account of the emissions that occur during construction, which are often at least as large. Our industrial production technique optimizes the building phase, making it more sustainable than using traditional site-built techniques.
What are the main challenges for Adapteo in becoming the most sustainable company in the industry today?
–The big challenge is that the whole industry must take common steps, in collaboration with all our stakeholders. We cannot reach all the way unless our suppliers or customers reduce their footprint as well. Therefore, it is gratifying when we find collaborations, as with Tarkett, which is our main supplier of flooring. They take care of the waste that is left over when we produce new buildings and can reuse it in their production. That cooperation has reduced our climate emissions by 33 tonnes.
The EU Taxonomy is a way to reorientate capital flow towards a more sustainable real estate sector. How have you at Adapteo prepared for the new legislation?
–To begin with, we have studied how it affects Adapteo in a gap analysis. This in turn has meant that we have further strengthened our reporting and data quality. The taxonomy also places higher demands on transparency, which is positive, as we have then clarified our framework for sustainable development and business ethics.
---
If you liked this Sustainability Chat and want to stay updated on our future guests, please subscribe to our newsletter. We can guarantee exhilarating chats with sustainability-profiles you don't want to miss!

Related blog post you might like: