Sustainability Chat with Cecilia Lenbäck, Manager of Food & Beverage at KRAV
In our Sustainability Chat series, we speak with leaders and dreamers in the world of sustainability – picking their brains on what drives them, their experiences working in the field, plus all the best tricks of the trade.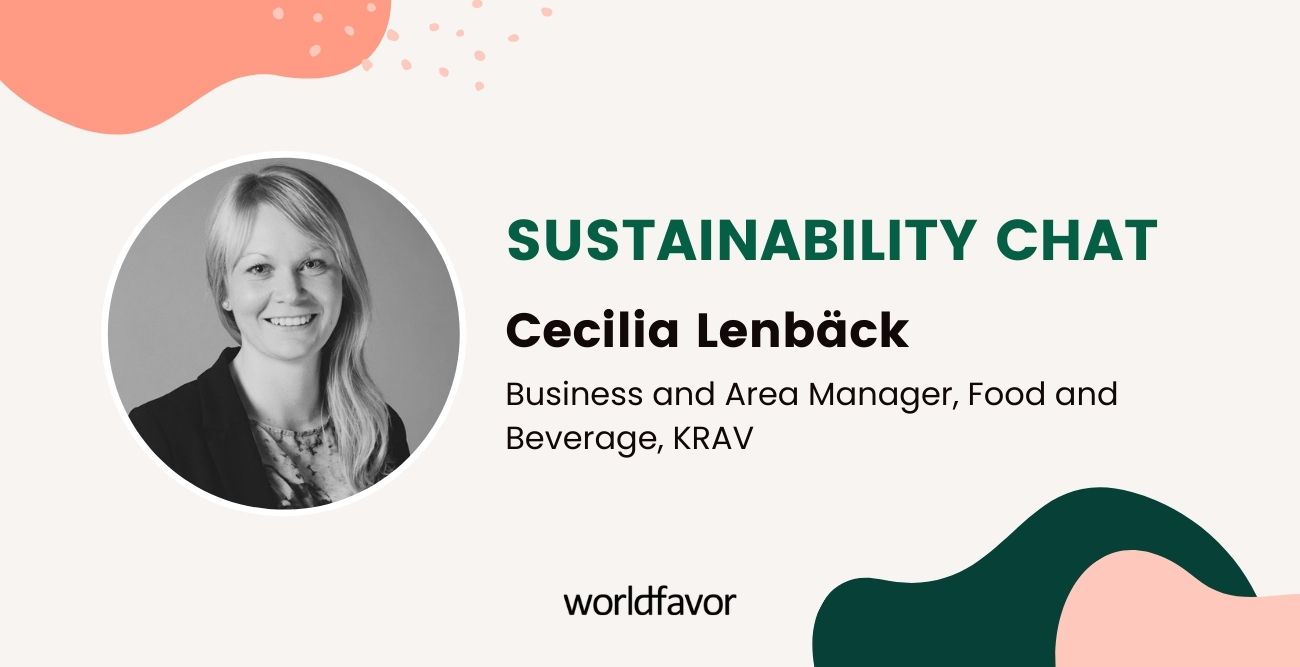 This time we had the pleasure of meeting Cecilia Lenbäck, manager for the food and beverage business area at KRAV, Sweden's most well-known environmental food label. In short, the KRAV-label stands for food produced without artificial chemical pesticides, good animal welfare, reduced climate impact, more biodiversity and better working conditions. In this interview Cecilia Lenbäck tells us about how it is to work with sustainability in the food industry, and about the biggest challenges they face. Also, we get to learn about how the field has developed since KRAV was founded in 1985. Here we go!
KRAV is the label with the most requirements when it comes to food production in Sweden. Can you tell us a bit about how you work with sustainability in the food industry (both local and global)?
- The KRAV label can be found on apples from Sweden but also on bananas from South America. We focus on how the food is produced and not where it is produced, as some raw materials are simply not possible to produce in Sweden. The challenges look very varied and our way of working therefore looks different depending on whether it is a production in Sweden or abroad that we want to influence.
Personally, I think that it's both motivating and developing to find ways forward to contribute to increasing biodiversity in Sweden and at the same time improve working conditions on the other side of the globe. We drive change in different ways - both through the development of rules but also through communication and marketing. International work is very much about collaboration with other certifications and recognition of regulations that have special competence and impact in different parts of the world, as well as issues such as social responsibility. The fact that the regulations regarding organic production exist globally is an enormous strength, and that we have international organizations from which we collaborate and receive updates. Here in Sweden, it is much more about direct dialogue with market players and finding ways forward where KRAV is part of the solution and the driving force.
Why do you think there is a need for an organization like KRAV?
- Nowadays, alarming information such as the climate crisis and reduced biodiversity reach us on a daily basis, which probably makes many people feel uneasy. It's easy to stick your head in the sand and focus on things that feel more comprehensible. Instead of forcing requirements, we need incentives that encourage and guide farmers, food companies and consumers to make sustainable choices in a clear and simple way. In addition, we need organizations that take this overall responsibility that KRAV does.
KRAV was established in 1985, how has the field changed over the years?
- A lot has happened, both when it comes to the growth of organic production but also for the presence of sustainability issues in the food industry. Organic and KRAV-labeled food had its strongest growth period around 2010, and we felt great faith in the future. However, the last five years have been challenging in other ways. Now sustainability is important for most people, which is fantastic, but there have probably never been so many definitions and approaches to tackle sustainability issues.
A problem that is emerging right now which is challenging for us as a well-established and third-party-certified certification, is that the industry itself produces a whole bunch of different labels and makes it increasingly difficult for consumers to find guidance. At KRAV we don't perceive this as something that will work in the long run, we would rather wish that effort was put into cooperating with more established labels, such as KRAV, in order to achieve the goals that we often have in common.
What do you see as the main trends in the sustainable food sector right now?
- In addition to the positive trend where many food companies try to find their way to tackle the issue of sustainability, innovation initiatives are something that I hope is here to stay. It is a clear consumption trend that the industry is hooked on which makes it possible to find locally produced sustainable products, but it must not become too protectionist or complex by confusing consumers how we create sustainable food production in the long run.
As a label for organic food - what are the biggest challenges you face at KRAV?
- KRAV is a sustainability label for food and an organization that works to have an active dialogue with both the food industry and the consumer on a daily basis. As I see it, we are much more than just a label for organic food. The added value that both our world needs and that consumers demand is embedded in our certification and many in the food industry are involved and contribute to a better world by certifying their production and labeling their products.
What is most challenging right now is that instead of activating the dialogue and exchanging collaboration with established certifications such as KRAV, other organizations introduce their own labels that also focus on individual issues such as climate - when we as an industry know that collaboration and working in a holistic way is the key to achieve our environmental goals and overcome the challenges of both biodiversity and the climate issue. I would like us to find a way where we can both collaborate and offer different ways forward, without confusing consumers so that it loses faith in the guidance that a credible sustainability label can provide.
---
If you liked this Sustainability Chat and want to stay updated on our future guests, please subscribe to our newsletter. We can guarantee exhilarating chats with sustainability profiles you don't want to miss!

Related blog post you might like: