Shaking off post-vacay blues: Here's how we reignite the office spark
Let's be honest: the post-vacay struggle is oh-so-real! But we think we've cracked the code on how to make it easier for our colleagues to return after vacation. In this post, we'll show you our soon-to-be (fingers crossed) post-vacay tradition kubb tournament.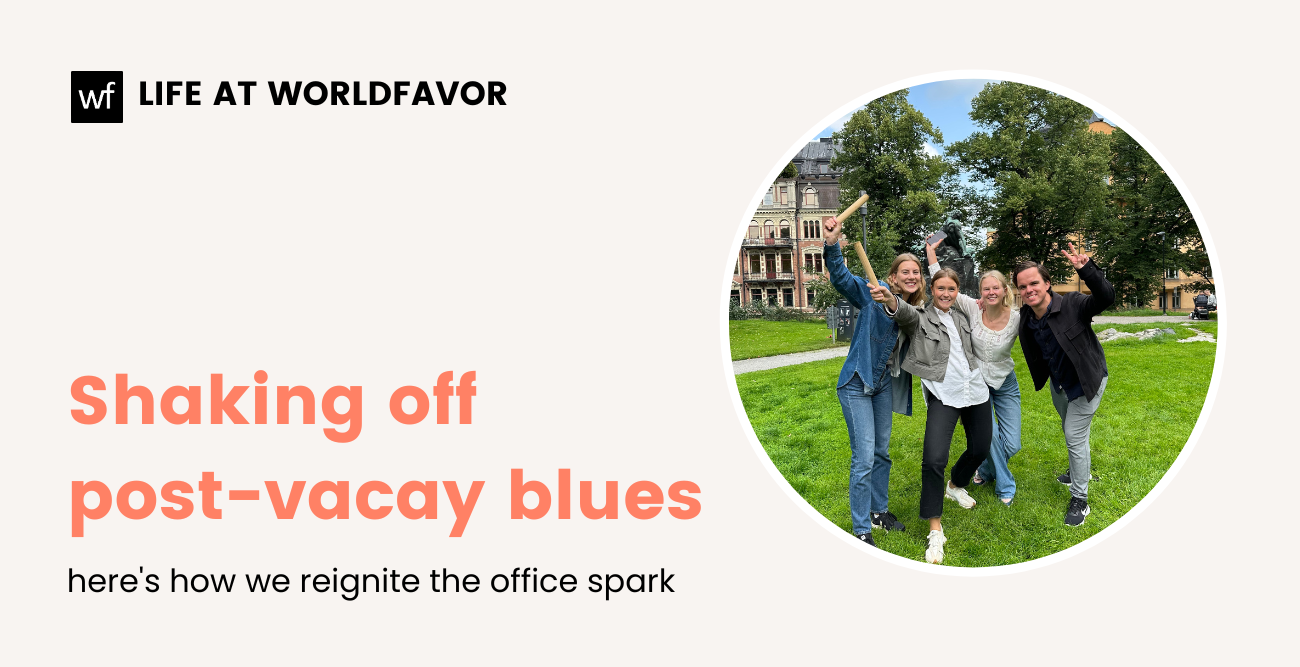 At Worldfavor, we continuously work to create a culture where our employees feel motivated and excited to come back to work after a well-deserved vacation. This year, we decided to spice up our return to the office by organizing a kubb tournament.
What's kubb you may ask?
Think of it like the Swedish version of bowling. Only on a lawn, with wooden soldiers, and a touch of Viking spirit!
The common post-vacay blues
As the summer sun begins to set and we start returning from our vacations, many of us might experience a dip in motivation. Even though it's sometimes difficult to interpret these feelings, post-vacation blues usually serve as a receipt for nothing more than a great vacation.
To combat these feelings, we wanted to come up with an engaging activity that would re-energize our teams and make them remember the core that is Worldfavor – our sense of togetherness. That´s when our CSO Sofia Busck came up with the brilliant idea – why not reignite the office spark by hosting a kubb tournament?
Tournament

k

ickoff
The teams were shuffled so team members from different departments could come together, to spark some cross team collaboration. The tournament stretched over a full week. Every lunch hour, two simultaneous games were played. The fields of Tegnérlunden transformed into a kubb battleground, filled with competitive instincts, good vibes, and team spirit.
After a week of intense competition, it was time for the final showdown between the top two teams. Those available from the office gathered to witness the epic face-off. In the end, the winning team celebrated their victory, and the runners-up graciously congratulated their opponents.
Beyond the

g

ame -

b

uilding

l

asting

c

onnections
The kubb tournament not only served as a post-vacation energizer, but it also created an opportunity for people to connect beyond their teams. Colleagues who had only exchanged emails or had brief encounters in the hallway got to know each other a bit more than before. We discovered hidden kubb-talents, shared common interests, and, most importantly, built a strong foundation for better collaboration and communication in the workplace.
Technically you must do something more than once to call it a tradition, but it is our intention to always prioritize creating a positive work environment where our team members feel excited to return to work. By embracing activities that foster camaraderie and teamwork, we reinforce one of our core values – in it together. As we continue to grow and evolve as a company, the sense of in it together will stick with us. After all, work doesn't have to be all serious and no play, we believe they can harmoniously coexist.
Curious about how the tournament played out? Make sure to check out our instagram.
Related content: