Meet the team: Chinomnso Onwunta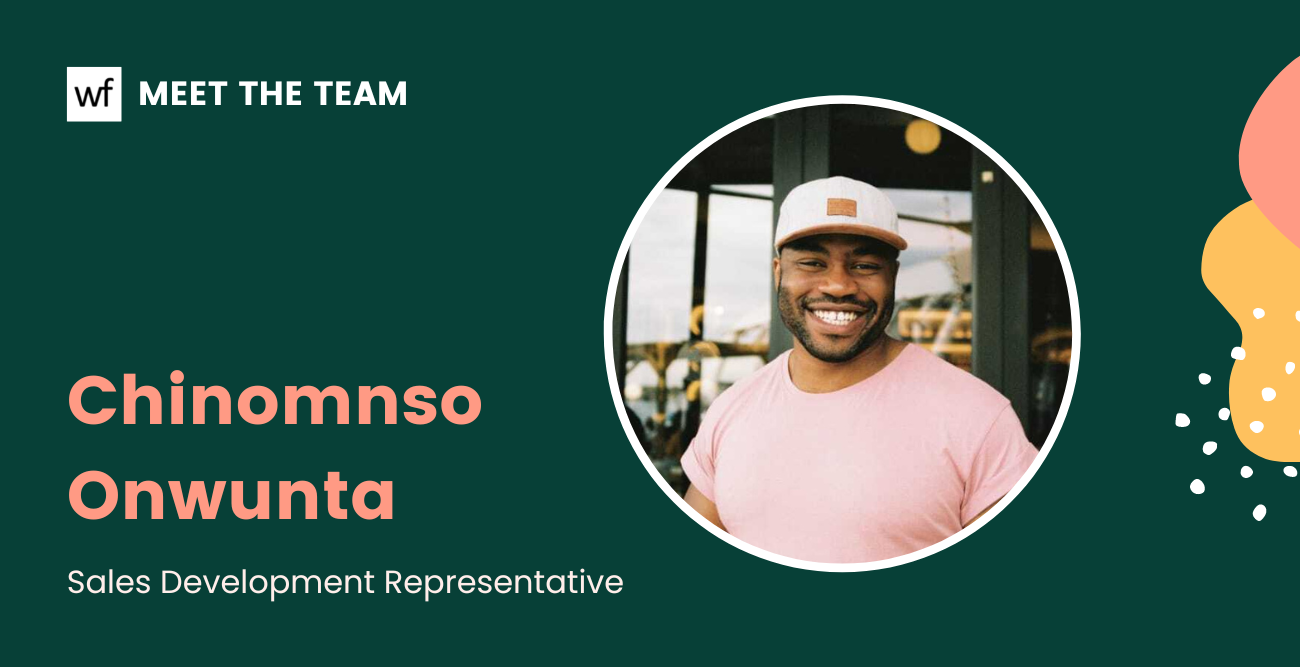 We had the opportunity to chat with our amazing Sales Development Representative: Chinomnso Onwunta! Learn more about his impressive background, both in life and sustainability.
What is your background?
I like to think of myself as a global citizen and a jack of all trades. I was born in Nigeria, spent most of my adult life in South Africa, and now I am a Swedish resident! I have a bachelor's degree in electrical engineering from the University of Stellenbosch, South Africa, a Diploma in Project Management, and a master's degree in leadership for organizational Sustainability from Malmö University, Sweden. I previously worked as an engineer, a business project manager, a sustainability consultant, and now, I'm on the Sales team at Worldfavor. Phew – that was a lot!
How come you moved to Sweden?
As with many people that come to Sweden, I had diverse reasons for moving here. The main reason was to study in a master's program. I had been interested in sustainability for some time, and was looking for a program that intersected with that interest and my prior leadership experience in organizations.
How did you find Worldfavor?
I found out about Worldfavor from a South African friend of mine who also lives in Sweden. She worked with our brilliant VP of Engineering (Mattis) at a previous company and suggested that I check out Worldfavor. After I did my research into the company and its vision, I knew I had to be a part of it in some form. And voila, here I am!
You have worked within sustainability before. What have you done?
I have been interested in sustainability for some time, although informally. During my time working in South Africa, I had opportunities to implement certain elements of environmental and social sustainability within the companies, in a personal capacity.
My official work within sustainability came during my master's program, when a course mate and I started a sustainability podcast (SustainMe on Spotify) and thereafter founded a sustainability consulting company, Futurely AB. Within these avenues and experiences, I have been able to share knowledge through talks, conducting assessments, workshops, writing reports, and recommendations to help organizations transition towards more sustainable practices.
What about sustainability interests you?
Most people are associated with, or work in some type of organization; therefore, I believe that's where we can make a huge impact. I believe that organizations have a crucial role to play in the transition towards a sustainable future. The most valuable asset an organization has is its people. So what interests me is how to get people to think more sustainably and thus embed sustainability in their strategies and every aspect of the organization. I believe the environmental aspect of sustainability is critical, and that the economic part is important. However, I have a very keen interest in the social aspect – which has to do with people!
And what does sustainability mean to you?
Sustainability for me means balance and a habitable society. Be it in my daily life or the work I do, or my interactions with the environment or people, I believe we must strike a balance between what we take and the effort we put into making the world more habitable and equitable. I also believe sustainability is contextual, so we need to put on a contextual lens when we're searching for solutions for sustainability challenges.
And that's that from me!
We are currently expanding and looking for some great people to join the journey. Check out if there are any open positions that feel like a great match for you!