Do's and don'ts: How to address risk in your supply chain
When it comes to creating a more sustainable supply chain, regulations are changing fast and the risks have serious consequences. Find out what your business should (and shouldn't!) be doing to stay on top of it all.


This blog is based on key takeaways from our recent webinar "Supply chain sustainability: how to address impact and risk." Hosted by Worldfavor's Emelie Nilsson, Lead Account Executive, and Ulrika Sandberg, Senior Sustainability Advisor. Listen in on the full conversation here: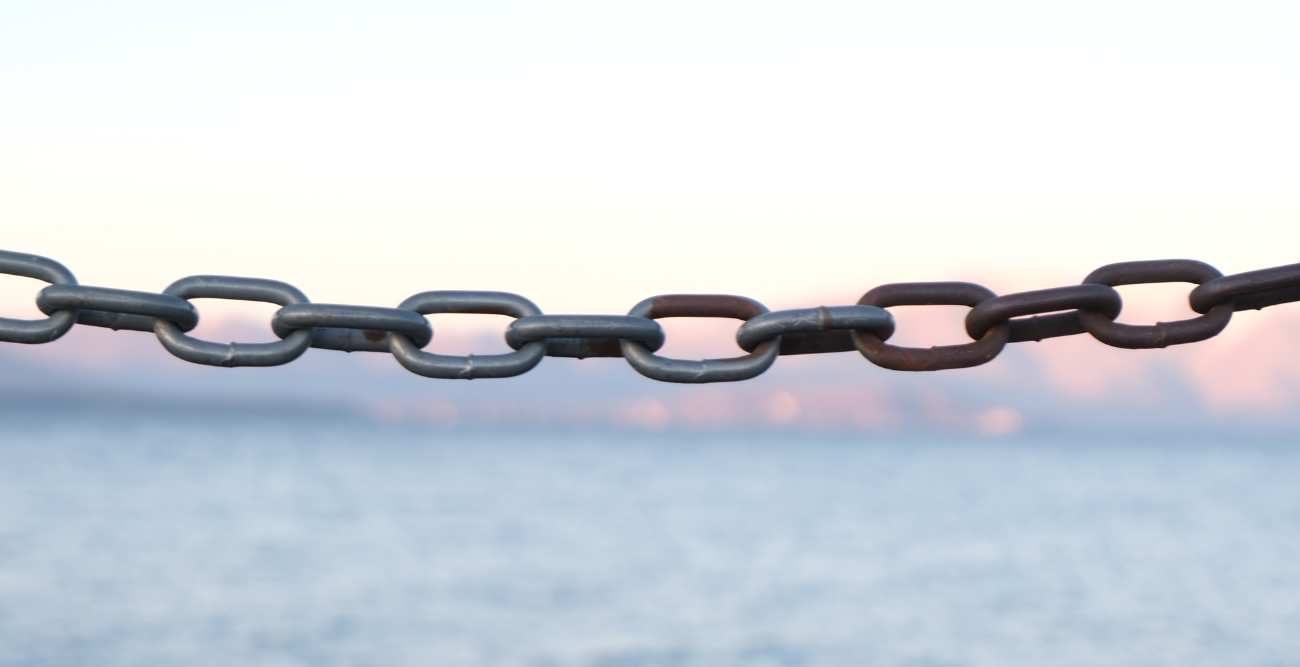 Published: December, 2022
With new regulations and definitions for key metrics popping up left and right, addressing risk in the supply chain is a constantly developing topic for businesses now. Whether it's to prepare for the upcoming EU Corporate Sustainability Due Diligence (CSDD) directive, or to confront a growing demand for ethically-made products, building a more sustainable supply chain is becoming increasingly mainstream and integrated into companies' own policies and practices.
But what do we actually mean when we talk about "risk?" What trends have managed to cut through the noise and emerge from this fast-shifting landscape? And what – concretely – should your business be doing (or not doing!) to deal with all the new regulations?
Based on key takeaways from our recent webinar "Supply chain sustainability: how to address impact and risk," this blog post will tell you:
What types of risk exist for your business
Which new legislations and trends are making the biggest impact on supply chain
Important do's and don'ts to adapt to the changing landscape
How Worldfavor can help
Setting the stage: what's really at stake for businesses today

Adapting to any change opens the door to new risks, and working with the supply chain is certainly no exception. As sustainability becomes a more prevalent topic in society and consumers increasingly demand better transparency from businesses about how their products are made – companies and investors are following suit and demanding that contacts, including suppliers, begin sharing sustainability data. While this change happens, it's important for companies to understand what's truly at stake:
Legal risk - If companies don't know about or don't comply with legislation related to Environmental, Social, and Governance (ESG) topics (for example: environmental protection laws, labor laws, and anti-corruption legislation), the consequences of non-compliance could be fines, exclusion from participation in public procurement, or civil sanctions.
Reputational risk - Companies may be the subject of criticism from investigative journalists, civil society, or research organizations – perhaps based on unknown negative impact in the company's own activities and supply chains.
Financial risk - A tarnished reputation could lead to investors selling off, suppliers canceling their contracts, and customers turning away.
These are real and serious risks, and to prevent negative impacts from happening, companies need to gather knowledge of their suppliers and proactively identify vulnerabilities within their supply chains.
A patchwork of regulations designed to spark action

Stakeholder demand isn't the only factor driving change related to supply chain, and increasingly, it's not only a choice – but a requirement. Across the globe, more and more due diligence regulations are being enacted by law and policymakers, and it's crucial that businesses keep up with the latest rules.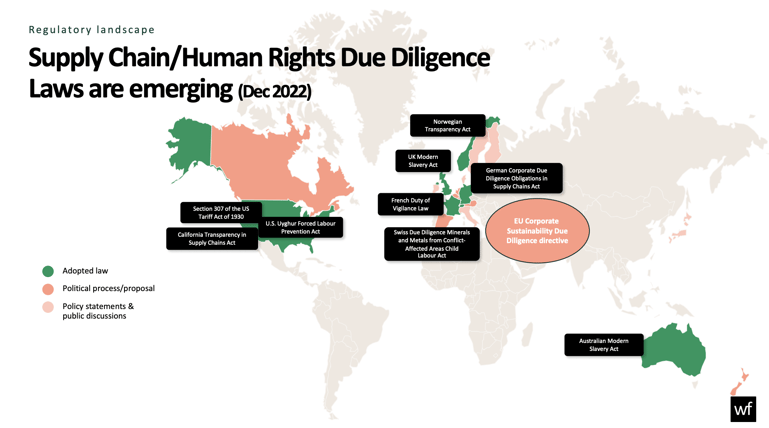 The current global state of supply chain/due diligence legislations, as of December 2022
Understand the different laws:
Regulatory developments can be divided into several different types of laws, including:
Responsible business conduct laws and regulations, requiring companies to live by the principle "do no harm" and work with due diligence analysis tools to avoid or minimize negative impact on labor rights or human rights

Import regulations, which often concern more specific issues such as child and forced labor

Reporting & statement regulations, providing definitions for key metrics, and outlining which data qualifies
What trends have emerged from the patchwork?
Due in part to new legislation, consumer demand, and companies' own motivation to take ethical leadership and responsibility for what they produce and sell – there are definitely positive trends in how companies are incorporating sustainability risks into their operations and supply chains.
One such trend in the world of ESG factors is an increased focus on the "S" of it all – particularly labor and human rights concerns. Corruption and the environment have been historically significant in determining risk, with strong legislation and enforcement already in place in certain countries. But increased attention on other social factors can (at least partly) be explained by the growing number of national human rights due diligence legislations, which are designed to increase corporate accountability and require companies to not only identify negative risk factors, but take action on them, too.
However, it's equally important to acknowledge negative trends. UN statistics on child labor and modern slavery (which includes forced labor) indicate a negative trend in the last few years. This can partly be explained by the global effects of COVID-19, but also climate change, and instability resulting from war and conflict.
UN reports: In 2020, the number of children in child labor rose to 160 million, the first increase recorded in 20 years.
UN/ILO: The number of people in modern slavery has risen significantly in the last five years: +10 million more people in 2021 compared to 2016
We are far from where we want to be in terms of companies' respect for human rights, and decision-makers need to step up their work on these issues and adequately confront social sustainability risks.
So, what can you do? More concrete tips for success

Do:
Start now.

Don't wait for legislation like the EU CSDD Directive to kick in.

Assess risks continuously.

Risk factors change for all kinds of reasons (the political landscape, new conflicts and regulations, shifts in the climate), so it's important to work continuously with it; for example, using the 6-step OECD method (OECD Guidelines).

Be transparent.

Don't greenwash! If actual negative impact has occurred,

investigate, initiate dialogue with those affected, and provide remediation. But on top of that: revise policies and internal guidelines. Report!

Use estimates if you don't have access to actual figures.

Follow up and keep refining data – what can be improved? How can success be replicated in other areas or departments?

Invest in knowledge.

Monitor sustainability news. It's important to have a continuous news flow, whether it's internal or external. Keep an eye on negative news from suppliers and subscribe to news services/feeds. Track reports from credible organizations.
Don't:
Try to act everything at once.

When you're just starting out, focus on only the most salient risks.

Downplay what you've found – act on risk instead.

Don't assume that risk factors will just go away; this could potentially lead to reputational and legal repercussions.

Forget that local communities may be affected.

Include vulnerable groups and local unions. In certain situations, direct consultation and consent is a legal requirement.

Run when things get difficult.

Stay, engage, and use what leverage you have to make improvements.

Hesitate to take advice from experts.

Join multi-stakeholder initiatives within your sector, ask questions from your government, and research environmental and climate programs. Remember: sharing best practices and the difficulties you encounter is key.
Hear more tips from our in-house experts in the on-demand webinar:
Take action now (and yep, we really do mean right now)

Society is moving more towards mandatory requirements, but the fact remains: working with risk isn't easy. It's not black and white. Depending on your location, your business model and industry, your size, and how your supply chain looks, it can be difficult to stay on top of the latest developments.
How Worldfavor can help
Worldfavor's Sourcing solution helps map out all the risks in a company's supply chain. With it, you can access, track, and assess ESG data from all of your suppliers, managing risks related to your unique supply chain. Book a demo today to find out more!

Related blog posts you might like: