Sustainability Chat with Sandra Hindskog, co-founder of Tjejer Kodar and Technigo
In our Sustainability Chat series, we speak with leaders and dreamers in the world of sustainability – picking their brains on what drives them, their experiences working in the field, plus all the best tricks of the trade.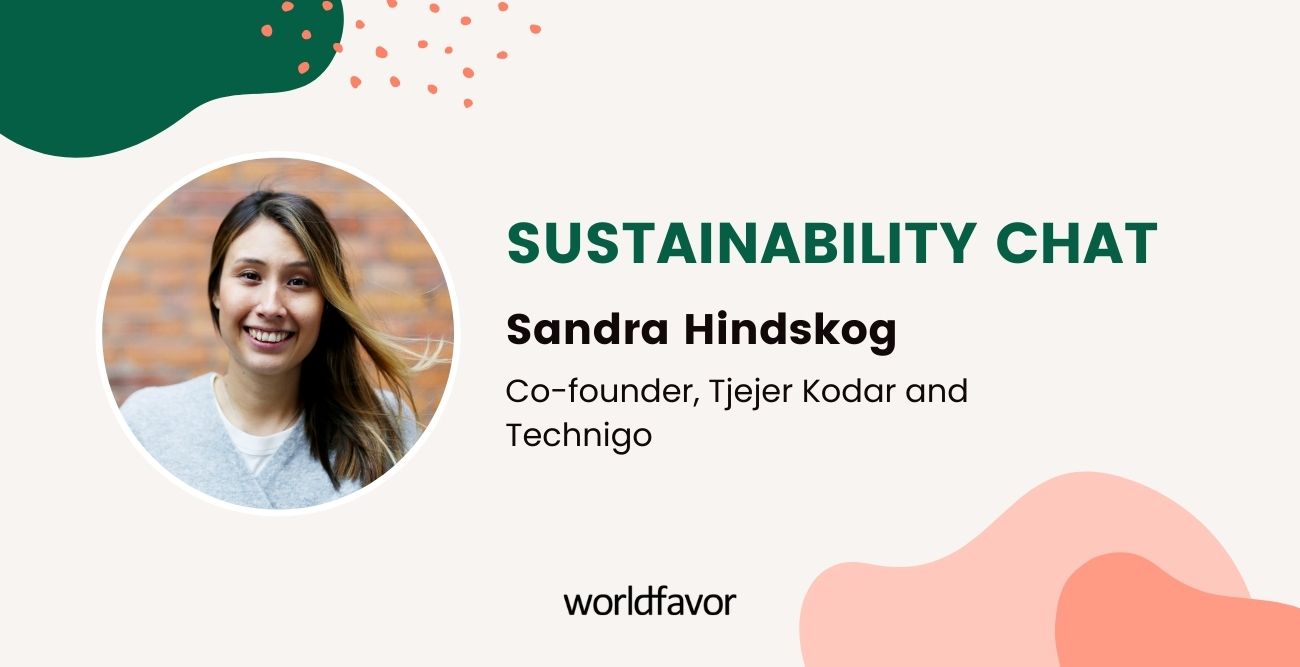 In this Sustainability Chat, we talked to Sandra Hindskog - co-founder of Tjejer Kodar, which is a leading educational organization in programming for women in Sweden. Their goal is to lower the thresholds and get more women to test programming. In addition to Tjejer Kodar, Sandra Hindskog and her colleagues run Technigo - a programming school that coaches companies to raise technical competence internally. In this interview, Sandra shares the story of her projects and gives an overview of how programming contributes to sustainability.
You are co-founder at Tjejer Kodar - an educational organization that teaches women to code. Could you tell us more about this project?
– We started Tjejer Kodar in 2015 with the aim to inspire and educate women in tech and coding. Since tech was, and still is, a male-dominated industry, we felt the need to connect with other women and create a space where we could explore and be creative with code. It started off with a small group of friends, and today we have 15 000 members who are participating in our courses and events. We also started a school for professionals called Technigo, where we educate career-shifters who want to work in development.
What inspired you to create programming courses only for women?
– To tell you the truth, our first event happened to be women-only by chance. We got such a good response and so much encouragement from the people around us and the women joining, so it became obvious that there was a gap in the market for all-female courses.
How often do you deal with issues regarding sustainability in your expertise area?
– Sustainability can mean so many things, for Tjejer Kodar and Technigo one aspect of sustainability is to break stereotypes and the preconceived notions we have about who can work as a developer and who's suited to work within tech. We have helped people with all kinds of backgrounds to change careers to programming - chefs, nurses, teachers, recruiters. We see these backgrounds and perspectives as something positive that will benefit them in their new career.
In what ways do you think coding can help the environment?
– Technology will play a huge part in creating solutions to help the environment, and coding is like the glue or foundation in making these solutions work. That's why it's so important to have people from all backgrounds and with different experiences taking part of this industry and working with code.
Are there any environment-oriented initiatives amongst the coding community in Sweden?
- I'm sure there are more than I am aware of. The only one I can think of is Hack for Sweden - a national innovation competition for startups. This year, the goal of Hack of Sweden is to find inclusive digital solutions to societal challenges. It is an exciting opportunity for startups that work with increased digital inclusion to bring new solutions to this problem. They aim to make technologies simpler for people with disabilities so more people can use digital services in the future. This is one great example of how programming can contribute to sustainable living.
If you liked this Sustainability Chat and want to stay updated on our future guests, please subscribe to our newsletter. We can guarantee exhilarating chats with sustainability profiles you don't want to miss!
Related blog post you might like: