Meet the team: Jasna Myrström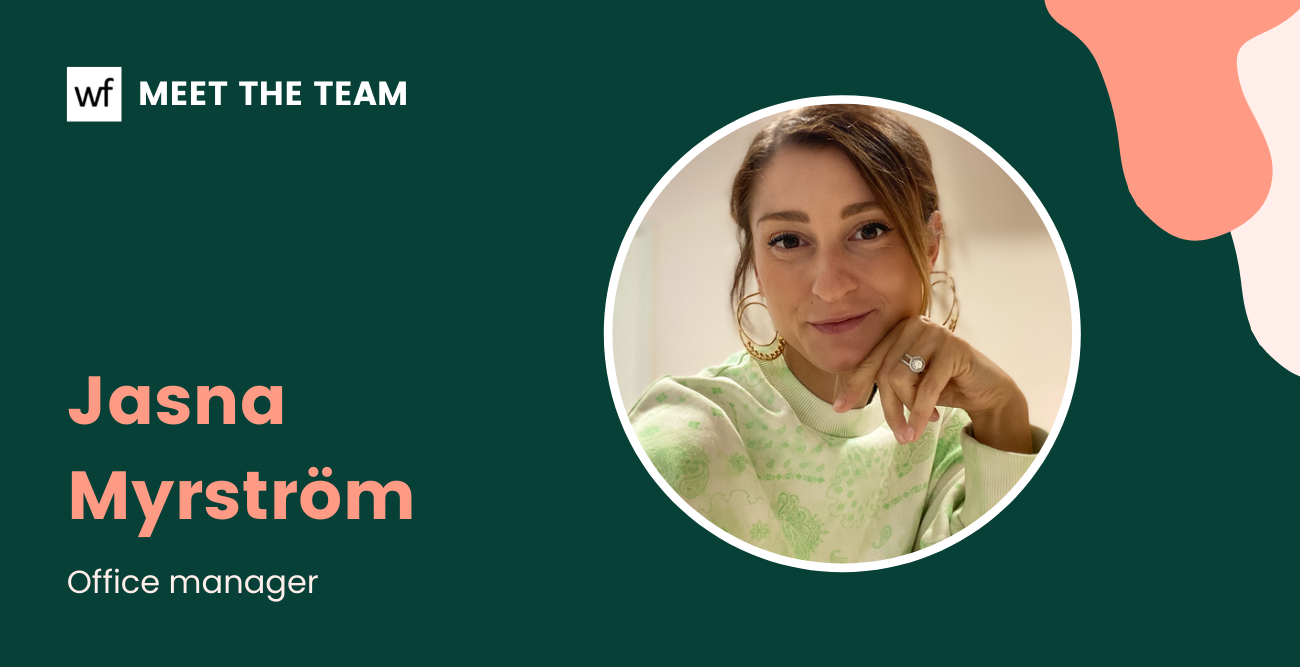 Meet the team is a series where we introduce our fantastic team members and have a peek at how it is to work at Worldfavor. This week we are happy to introduce Jasna Myrström, our office manager. Read on to get to know Jasna, find out her favorite qualities about herself and how she became the generous "happiness manager" she is today.
A happy and quirky girl joins a sustainability company
What is your passion?
My passion in life is to stay clear of routines. I strive to be on the silver screen and have a passion for the theatre and film. Acting is where my calling lies, but a girl must also pay the bills.
My other passion is to take care of people and make sure that everyone around me is happy. If I give this to my colleagues at my workplace, that is what makes me thrive and blossom. I'm a neat freak and a bit obsessive when it comes to keep things clean and organized. Just because I am a creative soul, does not mean that I am not organized and love to plan ahead. Shocker, right?!
How did you come to work as an office manager?
All these attributes combined make me the Office Manager I am today. More than 6 years of experience, I can't think of anything else that I would like to do in an office. I love this job – It is so unpredictable from day to day.
My energy level is usually pretty high, and I love to make bad jokes – something which is pretty common when you've worked the night shift as a security officer as the only woman in the squad...
Coming from a war-torn country, former Yugoslavia, we did not have much. But I saw my mother working hard, making sure that most days were special for my sister and me. She put a silver lining on what could be seen as a mundane and simple life in the countryside in Bosnia. Her generosity is the greatest gift and I am damn determined to pass it on – both to my daughter who is now kicking in my belly, ready to come out anytime now – but also in my work as an office manager. Or as I like to call it – happiness manager.
Tell us something we don't know about you
I have a fantasy of perhaps one day settling and being content with being a wife and mother, without the crazy activities that I usually take on, such as participating in a cooking show on TV with my husband and sister without telling them first, learning to stand on my head, or being a substitute host on the local radio station. The list goes on.
In all fairness, this is what I love about myself. I am never afraid of new things or challenges. Eating a sheep's testicles or pigs brain is just a part of the fun. Living in my own little bubble of extraness is how I like it – and why not apply it to the workplace. I am just glad that Worldfavor also seem to love my quirkiness and that they adopted me to the family.