Sustainability Chat with Wouter De Broeck, Sustainability and Communication Manager Alsico Group
In our Sustainability Chat series, we speak with leaders in the world of sustainability – picking their brains on what drives them, their experiences working in the field, plus all the best tricks of the trade.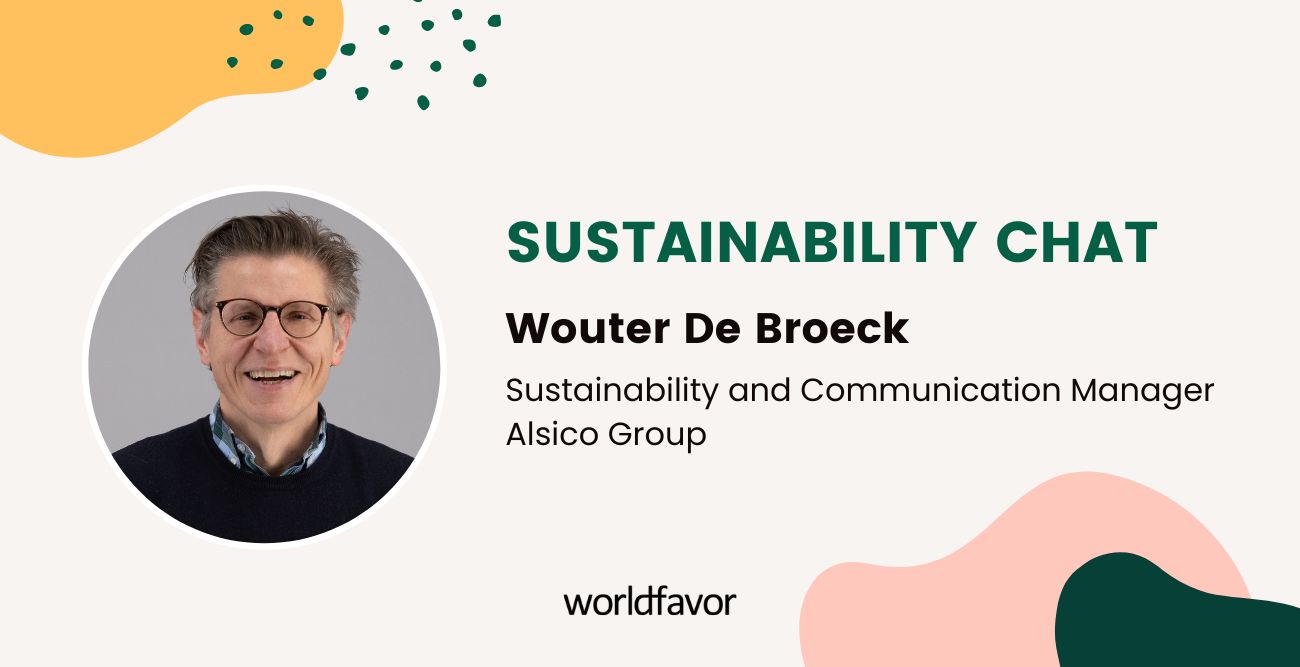 This time we had the pleasure of talking to Wouter De Broeck, Sustainability and Communication Manager at Alsico Group, one of Europe's largest producers of workwear. Wouter was recently recognized as one of the top three sustainability professionals of the year 2023 for his groundbreaking work when it comes to sustainable production and Alsico Group's inclusive recruitment policy.

Find out how Alsico Group is working to achieve a sustainable supply chain, what challenges the retail industry faces related to sustainable production, plus his best advice for companies that are at the beginning of their sustainability journey.
How is Alsico Group working to achieve your goal of getting 100% more sustainable sourced fibers by 2030?
It all started when we discovered that the main source of greenhouse gas emissions came from our so-called scope 3 raw material purchases. Our products mainly consist of a fabric blend of polyester and cotton. We found that the biggest cause of emissions was virgin polyester. It's made from fossil fuels and has a very long supply chain to become the fabric we use. So, to tackle these emissions, we decided to replace the virgin polyester with other fibers that are just as good as polyester, but less emitting. If we replace all our virgin polyester, say with recycled or bio-based polyester, we can cut up to a third of the global emissions of our company!
Then we have cotton, which is also a troublesome fiber due to its heavy use of water and pesticides in its cultivation. However, we are partnering up with the Better Cotton Initiative to obtain a type of cotton that is sourced from a better-controlled supply chain and grown under better conditions. And although we are cutting down the risks of cotton, we're still exploring other alternatives to cotton as well.
"So that's the idea. You look where the biggest impact is, and then you try to replace it with something better."
How does the workwear industry differ in production compared to the fashion industry?
When it comes to fashion, the focus is often on looking fashionable and being on top of the latest trends. Although there's more attention nowadays on looking trendy even in the workwear industry, the emphasis is still more on durability since the clothes need to withstand repeated washing.
A big difference between the workwear industry and the fashion industry is the supply chain capacity. We own the factories where our clothing is produced, unlike most fashion brands that typically outsource their production to subcontractors. That gives us greater control over the manufacturing process and enables us to ensure better working conditions.
What are the big sustainability challenges the retail industry must overcome?
The workwear industry and the fashion industry both face similar challenges, such as how to make certain fibers more sustainable. Take cotton for example. Cotton farming, being a monoculture with huge land use, poses numerous environmental challenges such as biodiversity loss as a consequence of pesticide use, a water consumption that amounts to 10.000 liters per kg of cotton lint, and thus being vulnerable to climate change. " I think that soon, cotton production won't be possible in some regions of the world without harming local communities, raising the question if we can continue using cotton on such a large scale. "
There are also a lot of social problems associated with the cotton supply chain, including documented cases of forced and child labor on cotton farms. And obviously, you have to take responsibility to find ways to exclude that from your supply chain.
But I would say that one of the biggest challenges, particularly for the fashion industry, is the sheer volume of clothing we produce and consume. It's too much, and this issue is not being adequately addressed today, to be honest.
When it comes to the CO2 footprint of most retail companies, the supply chain often accounts for the largest portion of emissions. How does Alsico Group tackle this challenge?
Regarding our scope 3 emissions or supply chain emissions, the biggest challenge lies in our raw materials. I think that if we are to reduce these emissions, we need to shift to more bio-based and recycled materials, which have lower emissions than those that are made from fossil fuels. Also, shorter supply chains are needed. Even when we are conscious that spinning and weaving will not return to Europe in the short run.
Another significant source of emissions in our supply chain is transportation-related. We need to start exploring less-emitting transport models. While we are unable to use train or boat transportation at the moment, we are keeping an eye out for cleaner trucks and electric vehicles, which could reduce our emissions massively.
Ultimately, it's not one industry's sole effort. We are dependent on other industries to make changes as well.
And lastly, what are your top tips for a company in retail that is just at the beginning of its sustainability journey?
I would say, if you haven't started yet, invest in metrics and in data collection to know your impacts. It is one of the easiest ways to start measuring your CO2 emissions. There are a lot of companies and consultants that can assist you with that nowadays. If you start with this, you'll get an idea of where your biggest problem lies.
However, it's not just about CO2 emissions or environmental impact; it's also important to consider the social impact your company has. To understand this, you must engage with stakeholders and ask how your activities are affected. This includes your suppliers, clients, NGOs, authorities, and other organizations with a lot of knowledge about your industry. By engaging with stakeholders, you can identify negative impacts and work to improve them, as well as report on positive effects in the future. This is the basic rule for sustainable practice!
"I would say, if you haven't started yet, invest in metrics and in data collection to know your impacts."
If you liked this Sustainability Chat and want to stay updated on our future guests, please subscribe to our newsletter. We can guarantee exhilarating chats with sustainability profiles you don't want to miss!
Want more content like this in your inbox?
Get weekly updates on the latest sustainability trends, regulations, and other awesome insights!
Related blog posts you might like: