Understand your investments' climate impact with the CO2e Emission Calculator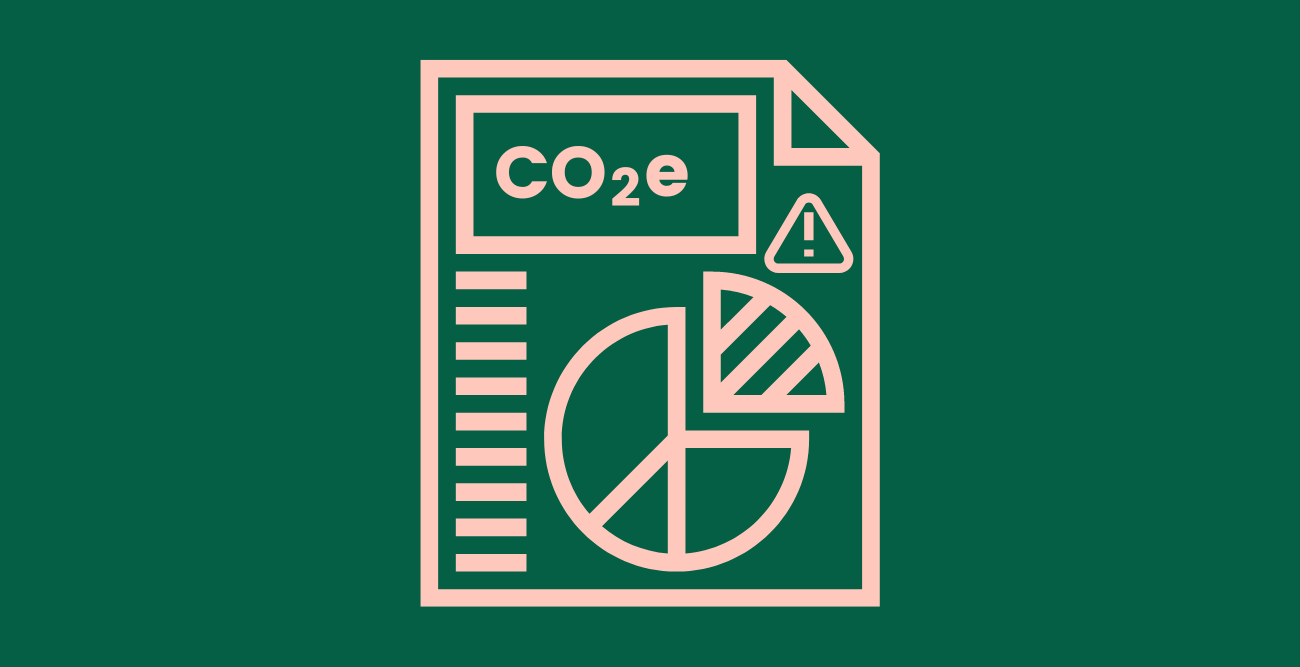 Support, guide, and empower your portfolio companies to take ownership of their ESG journey – whether they're new to the game or just need a little nudge. Worldfavor's CO2e Emission Calculator lets VC and PE investors quickly and smoothly spot which activities have the biggest environmental impact. Getting hold of the vital data you need to understand your portfolio's scope emissions has never been this easy.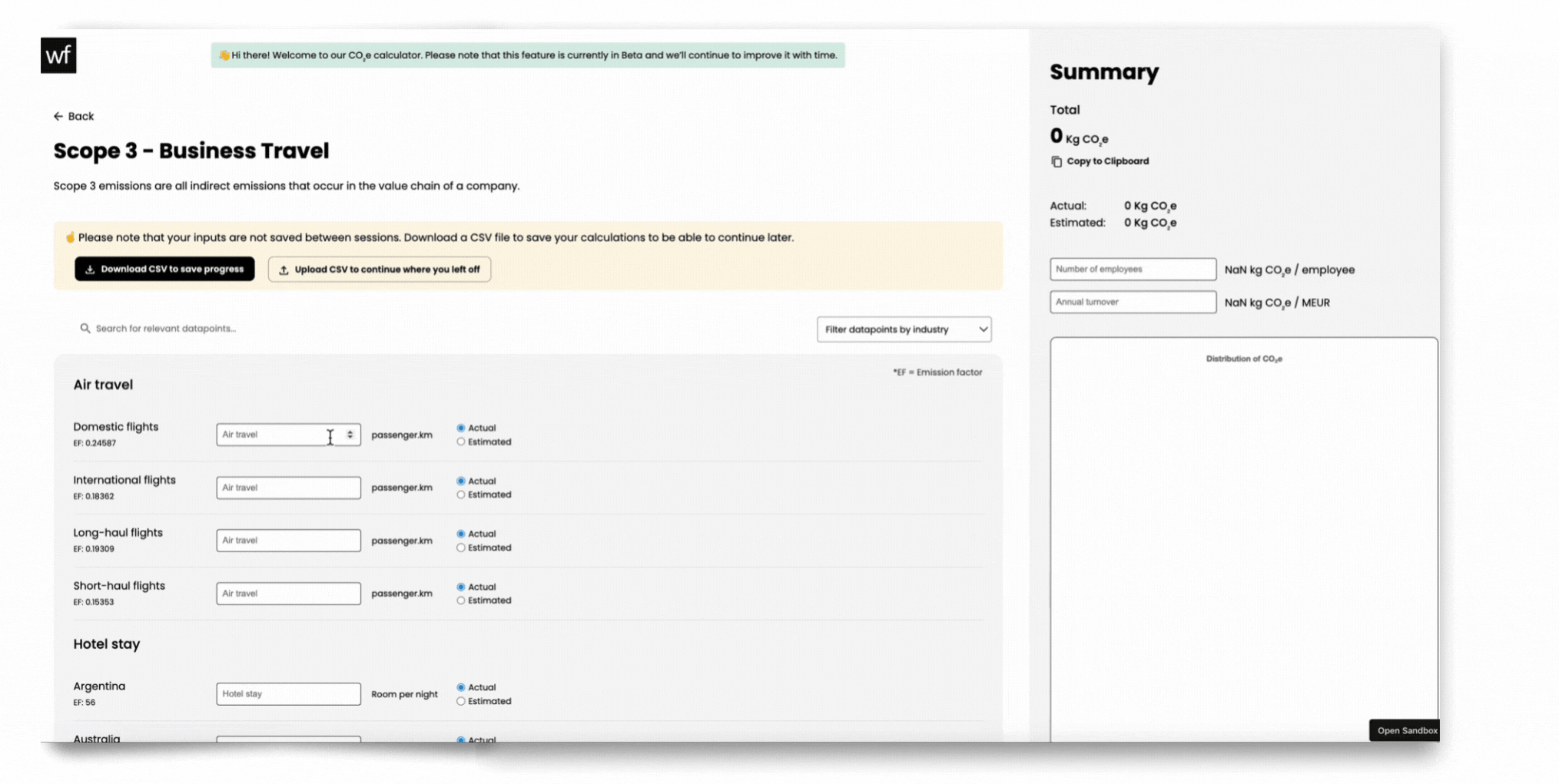 About Worldfavor's CO2e Emission Calculator

Reporting on scope 3 emissions (or indirect greenhouse gas emissions) that occur in your value chain is requested more and more often from both private and public stakeholders. However, many companies face various challenges in obtaining the data they need from portfolio companies and business partners to answer these demands. Too often, companies lack the tools, resources, or knowledge needed to report – and there is no standardized way of collecting information, either – creating a big gap between what's required to develop the transparency stakeholders are asking for and what data is actually available.
Worldfavor's CO2e Emission Calculator was developed to enable your portfolio companies to understand and measure their emissions, so that reporting can be as smooth as possible.
What the tool enables for you:
Empower and guide your portfolio companies in calculating their emissions and taking ownership of their sustainability
Gain relevant data from portfolio companies to get a better understanding of your scope 3 emissions
Learn where your climate impact is the biggest and take smart action to reduce your carbon footprint
Report your progress to LPs and other stakeholders
What the tool enables for your portfolio companies:
Learn about emissions and how their emissions are measured
Calculate and understand emissions and their sources to get an overview of their company's overall climate impact
Get guidance on the most commonly reported CO2 emissions in their industry
How it works:
Invite the portfolio companies you need data from to Worldfavor
Start by inviting the companies you need data from to Worldfavor. In the platform, companies can access the CO2e Emission Calculator to calculate and determine their emissions. This way, not only do you support your portfolio companies as they embark on their sustainability journey – you make sure that each one has all the tools they need to pinpoint vital data for your scope 2 and 3 reporting.
Converts business activities into GHG emissions within seconds

The CO2e Emission Calculator automatically converts all your portfolio companies' business activities into GHG emissions. All they have to do is input the relevant data to see it visualized.
Not sure which activities to report on? No worries!
Of course, not all emission sources are equally relevant to every company. Knowing exactly what to report on can be tricky – which is why we've made it easy for your portfolio companies to filter KPIs by industry, so they can understand which emissions factors are most commonly applicable to their field. Simply select an industry – like health and beauty or logistics – to see which activities are usually reported by businesses in that industry. This way, even your less mature portfolio companies know exactly what to measure.
What if my portfolio companies aren't collecting the right data yet?
Many companies just getting started with sustainability reporting haven't started recording the necessary data, such as how many long-haul flights they flew that year. With the CO2e Emission Calculator, portfolio companies can differentiate between estimated and actual data – giving you greater transparency and enabling you to collect more accurate data.
Immediately spot which activities have the biggest climate impact
See all your emissions data neatly visualized. See the total number of emissions, or zero in on how much each activity emits alone. This feature allows both you and your portfolio companies to identify which activities leak the most emissions, helping you decide how to take action to reduce your carbon footprint.
Export and communicate data findings with just one click
Export and convert new insights from the tool into organized spreadsheets that can easily be shared with stakeholders. Instead of getting bogged down in time-consuming manual processes, you can move forward faster - powered by real, actionable sustainability data.
Empower your portfolio companies to move in a more sustainable direction

Offering them a dedicated tool to easily calculate CO2 emissions allows each portfolio company to understand how their operations contribute and where their climate impact is biggest – while you understand the full spectrum of your scope emissions. A win-win for you and portfolio companies alike.


Understand
your portfolio's emissions today
Set up your ESG process in Worldfavor's Sustainable Investments solution to get access to the CO2e Emission Calculator today. Want to know more? Let's set up a meeting with one of our experts!


Related blog posts you might like: