The Environmental Impact of COVID-19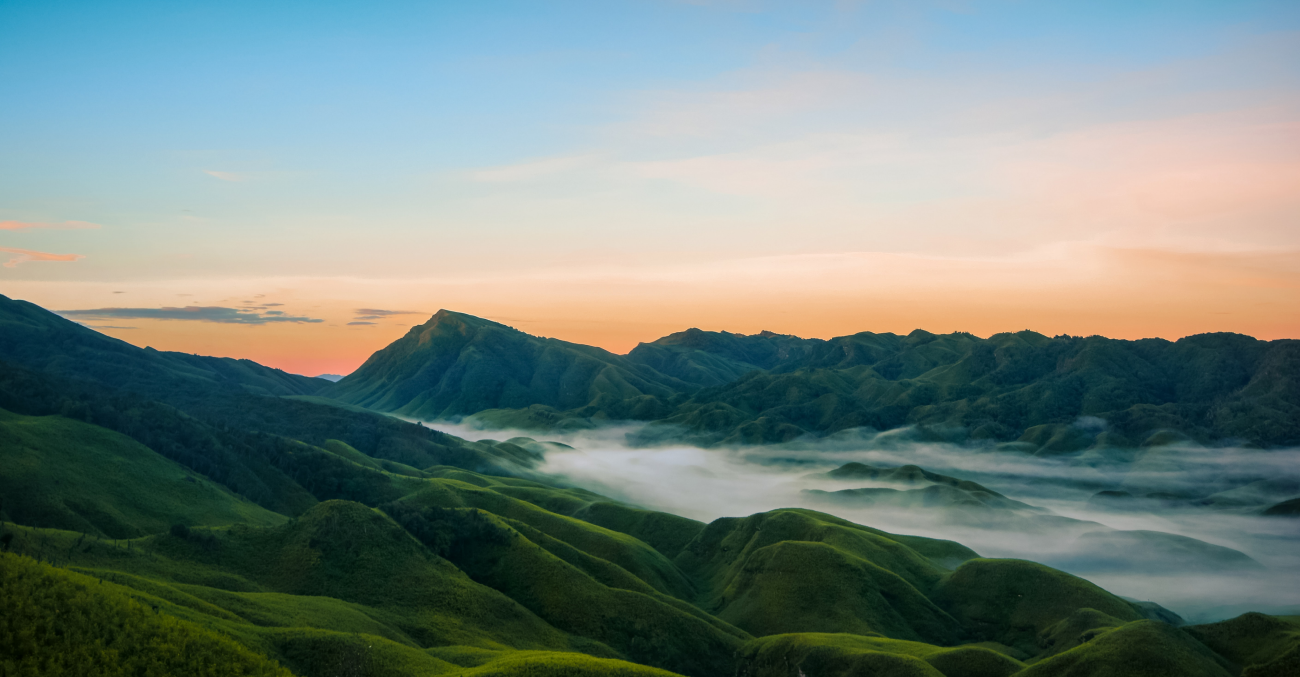 The COVID-19 pandemic is an unprecedented global challenge across all industries, businesses, countries, sectors, and stakeholders, not least every individual's personal situation. As with every crisis, there are always those who are hit harder than others, but amidst arguably the most serious crisis of this generation, we hope for and work towards a more sustainable future.
To this extent, we've
gathered
insights
from experts
on
how C
OVID-19
is affecting sustainability work
, and
it's, thankfully, looking on the bright side.
In times of difficulty and heartache, humanity is called to look up and
find ways to propel itself into a brighter future – in this case, r
eversing our impact on people and planet.  
Here's what's being said about the environmental impact of COVID-19 on our planet and sustainability work as a whole.
Environmental impact by Pausing Production and the Reduction of Air Pollution
The environmental impacts of Covid-19 can be seen, literally. Chinese cities are known for the smog and high levels of air pollution. A few months after the pandemic was a fact, these cities and their populations were experiencing an increase in rare blue skies. Wuhan, China, where the outbreak started, was locked down and eleven million people were quarantined. 
At the beginning of 2020, NASA and the European Space Agency show the difference in the city's nitrogen dioxide levels in January before the lockdown and in February after these dramatic measures were taken. The results are not short of astounding. As factories, transportation, and production in general took a halt for four weeks, CO2 emissions in the region dropped by a minimum of 25% as a result of actions taken to contain COVID-19. That translates to a drop of 200 million tons of CO2 emissions which is 6% decrease in global emissions. A more sudden and large-scale impact is hard to come by, as industrial emissions account for 86% of all emissions worldwide. However, this is a bittersweet benefit of Covid-19 as this positive drop is accompanied by an equally large economic downturn, sorely impacting the lives of millions.  
The same environmental benefits of Covid-19 can be seen in Italy as well. Presented by satellite pictures, we can compare the amount of nitrogen dioxide position in Northern Italy and China, 2019 compared to 2020.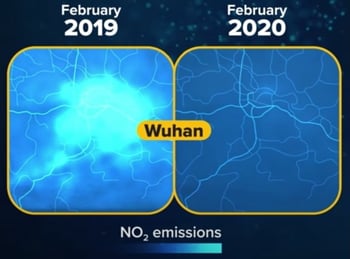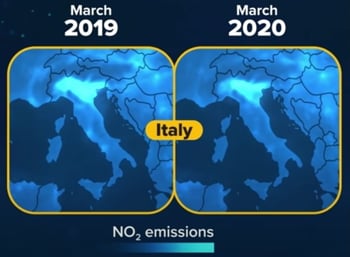 There is no denying the enormous effect of human activities on our planet through CO2 emissions. However, because production is so closely tied with the economy, nothing short of a global pandemic would be able to make such drastic changes in such a short period of time. Now, because of COVID-19, these measures had to be taken, and in turn, the world is witnessing the extent of our impact on the environment in just one month. Marshall Burke, an Earth Systems Professor, calculates on G-Feed that this pandemic "likely has saved the lives of 4,000 kids under 5 and 73,000 adults over 70 in China" because of the decrease in air pollution. Perhaps seeing the positive environmental impact Covid-19 has had will encourage industries, the public sector, and individuals to find alternate solutions, and act now. 
Shifting Business Meetings Online
An indirect environmental impact of Covid-19 is through the working arrangements the majority have been shifting to, namely home office. In an effort to unite businesses to respond to COVID-19, work from home arrangements is encouraged to the maximum extent possible. This means the amount of business travel has reduced and is being replaced by online meetings. Thanks to the possibility of teleconferencing and video conferencing, business does not have to stop, but takes a slightly different format. Before this outbreak, businesses didn't think twice about sending people across the country, or planet, for meetings that could also be conducted online. Now, businesses are grateful for the practicality and productivity of these online solutions. 

The environmental impacts of Covid-19 also showed by the drop of airline flights, 12.5% per week to be exact, eliminating 2.2 million metric tons of CO2 from the atmosphere each week. The reduction in business comes with a downside, too, as it's taking a huge toll on airlines and the tourism industry that will lead to detrimental economic and individual consequences.
Flying for meetings is still the norm. Maybe learning how to leverage technology for future meetings will enlighten people and businesses about the effects of their decisions, and push airlines and industries to prioritize environmentally friendly solutions. 
Supply chains prove how connected we are

The COVID-19 pandemic is hitting businesses in a never-before-seen way and at a never-before-seen rate. As China shut down, factory outputs stopped, causing huge disruptions in global manufacturing industries and supply chains. This is largely due to the fact that China has become a major world production center in the last two or three decades. 

According to the World Economic Forum (WEF), the impacts of COVID-19 has caused businesses to scramble after alternative solutions, turning their attention to the second and third tiers in their supply chains. Because of the COVID-19 crisis, competition for valuable supply sources is intensifying, especially in the industrial sector. China is slowly turning back and factories are opening again, but the impact of the shutdown of a country responsible for some of the biggest production worldwide has left its mark.  As WEF puts it, "moving forward, there will be an increased need for infrastructures and technical means to create the transparency within global supply chains." 
There has never been a better opportunity to get started on the critical work with supply chains. Businesses can't afford this kind of crisis again – they need to create what-if situations based on data that considers uncertainties and risks. This is possible by leveraging technological platforms that can share and manage supply chain data. As technology increases transparency and traceability in all tiers of the supply chain and in so doing, helps manage risks and create predictive models to prepare for various scenarios. Gaining traceability and transparency, in turn, advances all kinds of sustainability work – from human rights standards to climate impact.

If we look at this in retrospect, perhaps COVID-19 has, in its tragedy, created an environmental impact by awakening the world into action, where the climate, sustainable business decisions, and transparent supply chains are at the top of the agenda. Times like these serve as a fresh reminder that people and planet are intricately and closely connected and thrive in collaboration with each other. We hope these positive predictions come into fruition and hold on to this hope in the mindset of our current, turbulent reality. 
To learn how your business can ensure sustainability and increase positive environmental impact, watch our On-Demand Webinar 'How to ensure transparency and sustainability in multi-tier supply chains'.
---
Related blog posts you might like: