Countries affected by mandatory ESG reporting – here's the list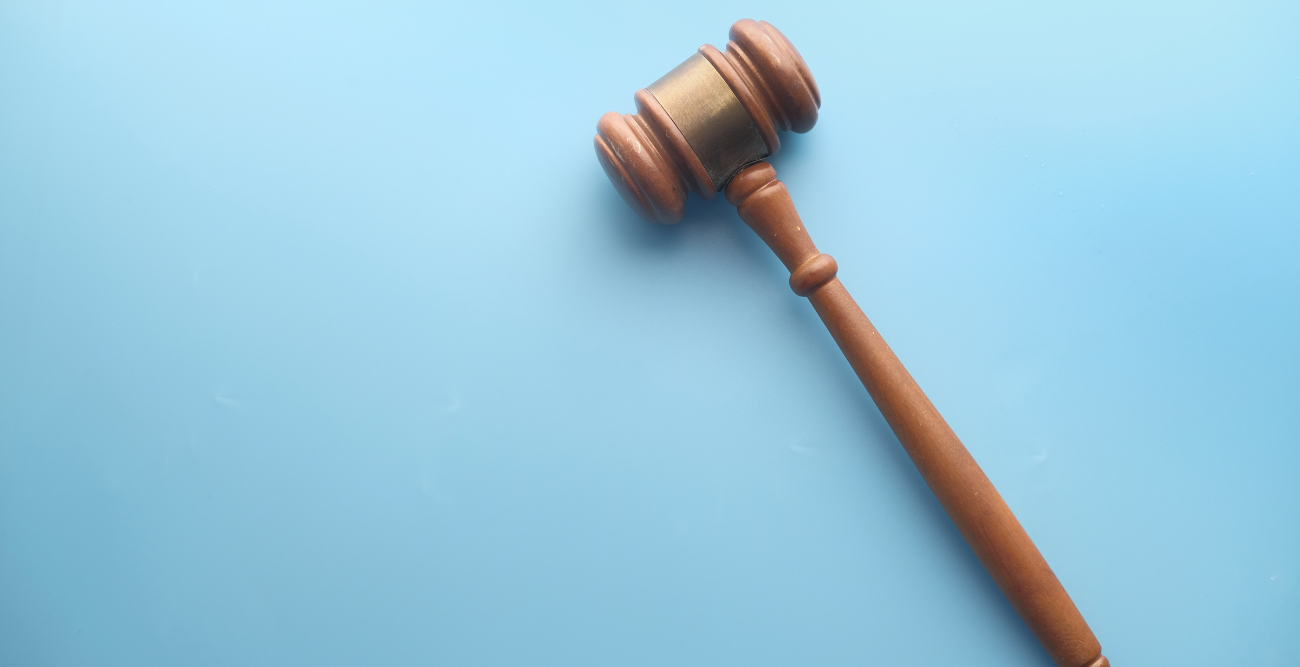 ---
What is ESG reporting?
ESG reporting is an organization's public disclosure of its environmental, social, and corporate governance data, hence the ESG. The purpose of an ESG report is to ensure transparency into the organization's ESG activities and measure its sustainability performance so stakeholders, such as investors, consumers, and NGOs, can make better-informed decisions.
---
In the past years, investors' attention to Environmental, Social, and Governance (ESG) considerations has boomed. From being seen as an uber-niched investment just a few years ago, it is now often a deal-breaker for whether or not an organization succeeds or fails.

The increasing number of mandatory ESG regulations around the world plays a key role in this – and more are on the horizon. In fact, the number of governments that introduced legislation making ESG reporting mandatory in the past year proves that ESG reporting is not just another bubble – it is here to stay.

As a result, more and more companies are being asked by investors to disclose their data. If you haven't been affected already, it is probably just a matter of time until your business must start to collect, analyze and report your ESG.

To help you get started, we have examined the current state of mandatory ESG reporting requirements worldwide and whether or not you are affected. Let's dive in!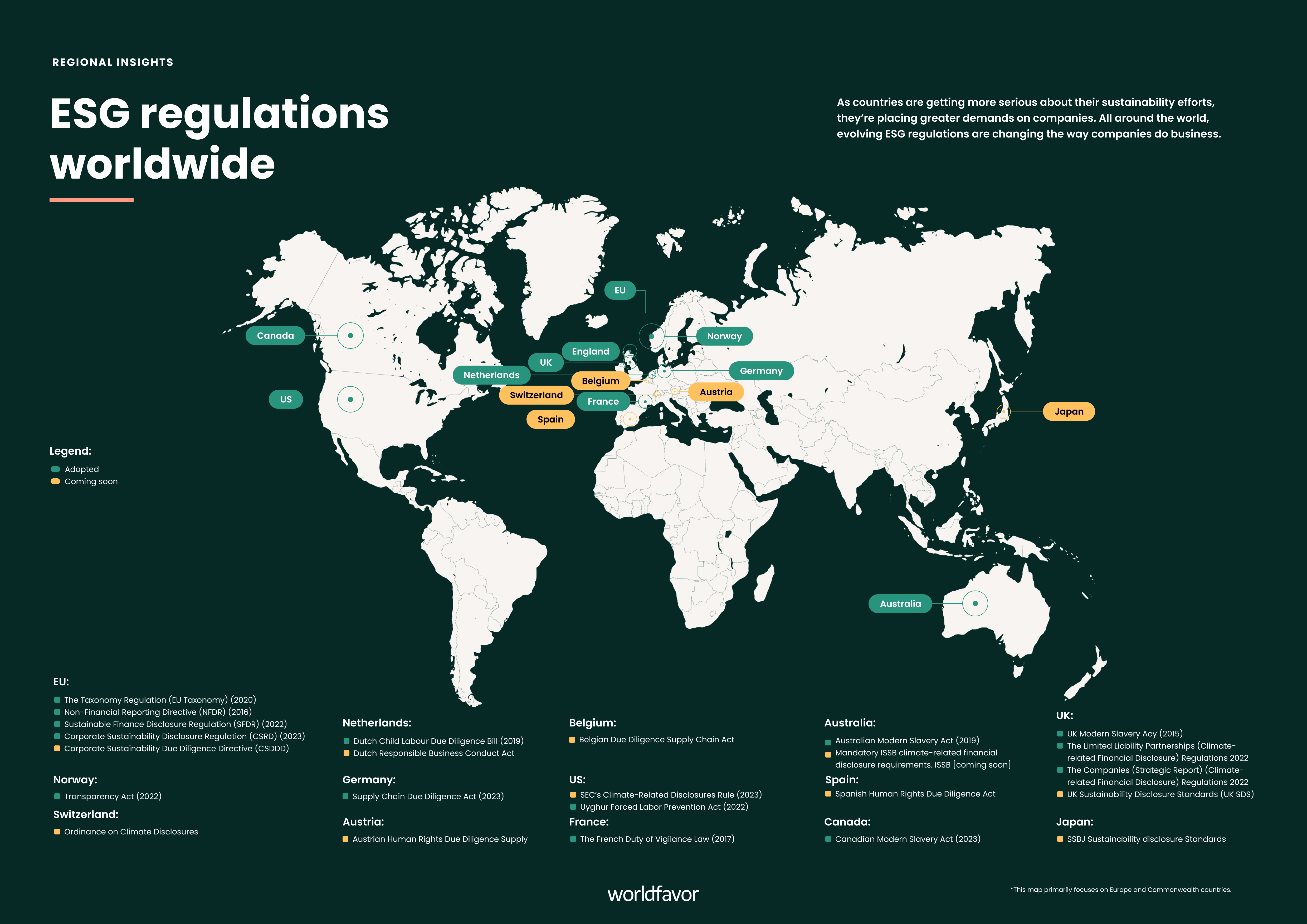 Map of ESG regulations around the world from our Sustainability reporting playbook.
The state of mandatory ESG reporting requirements

The negative impact of climate change on businesses is already having visible effects in all sectors, and understanding environmental, social, and governance (ESG) risks becoming increasingly important for investment decisions.

Yet, the lack of availability and quality of companies' ESG information hinders investors from making informed and sustainable investment decisions – and thus slows down the transformation to a greener economy.

To bridge the gap between the demand for ESG information by investors and the supply of information by firms, more countries are adopting mandatory ESG disclosure legislation. A study from 2021 identified 25 countries that introduced mandates for firms to disclose ESG information during the sample period – most applying to financial institutions, state-owned companies, and large, listed companies. This doesn't mean that other businesses won't be affected. SMEs are already facing increased pressure from in-scope financial institutions and companies to disclose their ESG metrics.
Mandatory ESG reporting in the UK

In April 2022, the UK enacted two mandatory ESG disclosure laws. These are:

The Companies (Strategic Report) (Climate-related Financial Disclosure) Regulations 2022 and The Limited Liability Partnerships (Climate-related Financial Disclosure) Regulations 2022.
These Regulations require certain companies to provide climate-related financial disclosures in their strategic report. These companies are:
All UK companies that are currently required to produce a non-financial information statement, being UK companies that have more than 500 employees and have either transferable securities admitted to trading on a UK regulated market or are banking companies or insurance companies (Relevant Public Interest Entities (PIEs));

UK registered companies with securities admitted to AIM with more than 500 employees;

UK registered companies not included in the categories above, which have more than 500 employees and a turnover of more than £500m;

Large LLPs, which are not traded or banking LLPs, and have more than 500 employees and a turnover of more than £500m and;

Traded or banking LLPs which have more than 500 employees.

Source: Government's Q&A guidance on how to apply the new requirements
The impact of the new legislation will not only be on the UK's largest companies and financial institutions but also on the thousands of businesses in their supply chains – stressing once again the importance of getting your ESG reporting going despite of whether you are directly affected or not.
Mandatory ESG reporting in the EU

Prior, certain large companies (around 11.000 entities) within the EU were required to disclose ESG information under the Non-Financial Reporting Directive (NFRD).

However, in 2023, the NFDR was replaced by a new ESG reporting directive – ​​the Corporate Sustainability Reporting Directive (CSRD). The CSRD will significantly extend the scope of companies obliged to comply with approximately 50.000 companies in the EU, corresponding to 75% of the EU's companies turnover.

Want to learn more about the CSRD? Download our popular guide for free here:


Mandatory ESG reporting in the US

There are currently no mandatory ESG disclosure requirements on the federal level in the US. However, in May 2022, the US Securities and Exchange Commission (SEC) proposed "amendments to rules and reporting forms to promote consistent, comparable, and reliable information for investors concerning funds' and advisers' incorporation of environmental, social, and governance (ESG) factors." If the proposal is adopted, it will establish disclosure requirements for funds and advisers that market themselves as having an ESG focus and be a large win against ESG greenwashing.
Mandatory ESG reporting in Canada

In April 2022, the Canadian federal government released its 2022 budget, where they promised to bring mandatory climate-related reporting requirements to federally regulated banks and insurance companies. The financial institutions in scope will be required to publish their climate disclosures in alignment with the TCFD framework, starting in 2024.
Although the regulation focuses on federally regulated financial institutions, the government expects it to have an impact on Canada's entire economy.
"As federally regulated banks and insurers play a prominent role in shaping Canada's economy, OSFI guidance will have a significant impact on how Canadian businesses manage and report on climate-related risks and exposures." the budget document reads.
Mandatory ESG reporting in Asia
Malaysia
In Malaysia, ESG reporting has been mandatory for all public listed companies since 2016, making it one of the first countries to introduce this kind of disclosure requirement. Today, there is no consistent ESG reporting framework mandated. Still, a proposal issued in Marsh 2022 suggests that all in-scope companies should disclose the information aligned with the TCFD recommendations – an update that is probably two or three years down the road.
China
There is currently no mandatory ESG reporting legislation in China. However, with effect from 1 June 2022, China's first set of (voluntary) guidelines for Chines companies to report on ESG metrics came into effect – the Guidance for Enterprise ESG Disclosure. It was developed by the Beijing-based think thank China Enterprise Reform and Development Society, focusing on Chinese companies, laws, regulations, and policies. While it is non-binding, the framework offers "a glimpse of what mandatory disclosures might eventually look like in the country," according to Bloomberg.
Mandatory ESG reporting in New Zealand
The New Zealand government has adopted legislation making climate-related disclosure mandatory for large publicly listed companies, insurers, banks, non-bank deposit takers, and investment managers from the 2023 financial year and forward.
The legislation requires financial institutions covered by the Financial Markets Conduct Act to report, these are:
Registered banks, credit unions, and building societies with total assets of more than 1 billion NZD;

Managers of registered investment schemes with greater than 1 billion NZD in total assets under management;

Licensed insurers with greater than 1 billion NZD in total assets or annual premium income greater than $250 million

How to get started with your ESG journey
Even if your organization is not yet bound to disclose your information by law – this could change any time soon. The best part? Setting up your ESG reporting doesn't have to be baffling! Save time and resources by digitizing your ESG reporting in Worldfavor to automatically allocate all your ESG information with established frameworks, such as TCFD and CSRD – we got them all. Sounds interesting? We would love to tell you more!


Related blog posts you might like: