Set up your supplier risk assessment in Worldfavor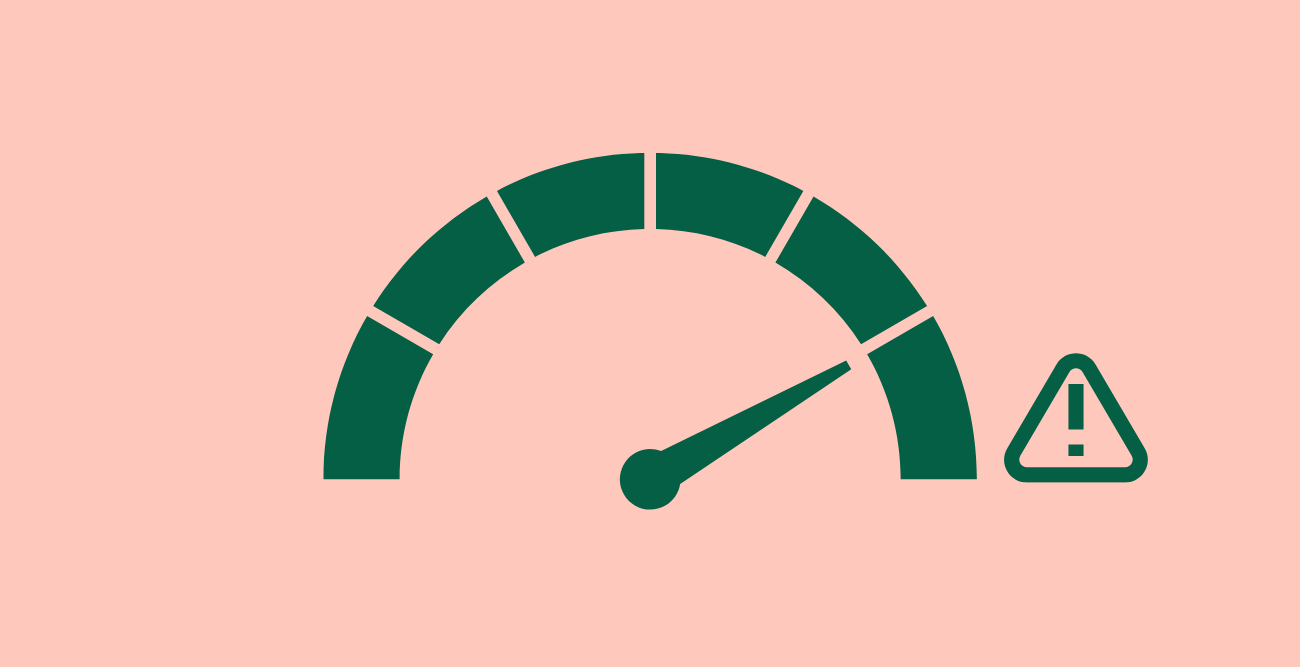 In a world of complex, global, and cross-sectoral supply chains – hidden environmental, social, and governance (ESG) risks are simply a fact for most businesses.
Automate your risk assessment process in Worldfavor's Sustainable Sourcing solution to enable informed and data-driven actions to better discover, mitigate, and even prevent risks lurking in your supply chain.
What is a supplier risk assessment?
A supplier risk assessment helps companies to map out potential risks in their supply chains and determine which suppliers pose the biggest threats based on risks related to their geo-location, industry-specific risks, or raw material sources.
What are the benefits of Worldfavor's risk assessment?
​
Replaces your manual tasks with automated data collection and calculations. Improve accuracy and efficiency and reduce human error and unnecessary headaches.
Get notified immediately about risky business to know what suppliers are at risk and require your attention.

Our country-based risk scoring tool helps you prioritize risks, so you can focus your mitigation efforts on the right place at the right time.
Aggregate your suppliers' data. All in one place. Risk management has never been easier.
Get a clear overview of your risks in a map view. Get a clear picture (literally) of whether your own operations and suppliers pose low, medium, or high risks on your own country-risk map.

Share and export with ease. Invite your colleagues across the globe to take part in the information on your business's multi-user dashboard. Or, easily export it to anyone it may concern, such as customers, investors, or reports – you name it.


Identify and evaluate suppliers' risk in Worldfavor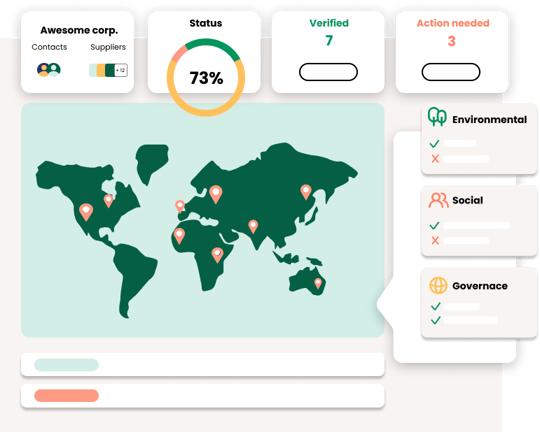 Access actual supplier data
Invite your suppliers to join Worldfavor where they can add, manage and share their ESG information. Each of your reporting suppliers gets them own dashboard in Worldfavor to collect, calculate and understand their ESG data and performance (for free!). Start collecting basic information needed to screen assess, and follow-up on the quality of their work with ESG issues.
Worldfavor automatically sends out your data requests and reminds suppliers who have not responded at all or have parts left to complete. Want to learn more? Read our guide on how to easily get necessary information and better control of your supplier in Worldfavor.
Use country risk index in combination with suppliers' information to identify risks
Get trustworthy insights on your suppliers' ESG risk exposure by combining Country Risk Indices with your supplier information. The platform automatically calculates whether any of your suppliers are subject to risks based on which country they're based, operate, and have sub-suppliers in based on internationally established country risk indices. Get notified about which of your suppliers pose high, medium, and low risks within human rights, corruption, and water matters.

Filter on a risk index to find which suppliers pose a higher risk in human rights, corruption, and water matters.
Visualize your insights on a map based on country-risk
Worldfavor's country-risk map enables you to get a high-level picture of which of your supplier poses higher risks depending on the risk scoring on each country. The risk map is based on internationally accepted risk indices and is updated when important changes occur related to human rights, corruption, and water.

All your suppliers, their HQ locations, owned operations, and sub-suppliers are automatically mapped out on the map. This way, you can quickly spot your challenges and which suppliers to prioritize and put your efforts into.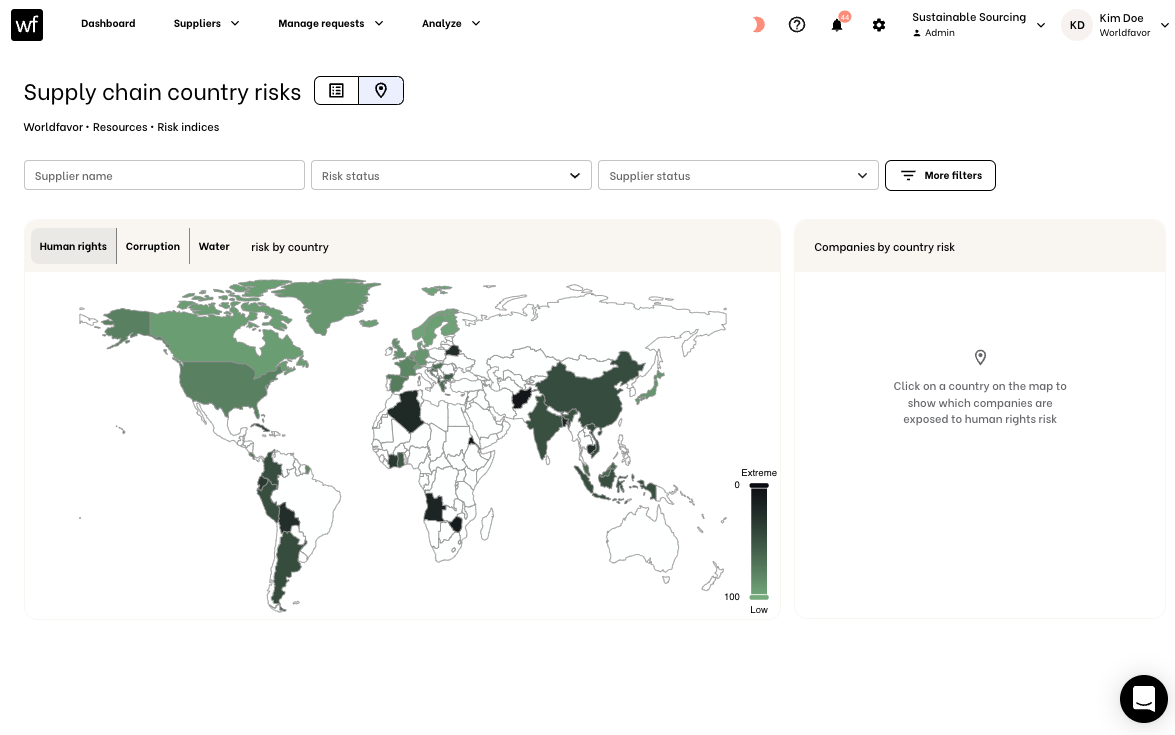 Worldfavor maps out all locations your suppliers and sub-suppliers operate on a country-risk map, enabling you to get a comprehensive view of your risks.
Once you get the data-driven insights, decide what action is needed
Worldfavor's risk assessment process allows you to quickly and confidently take action on risks based on data-driven insights. Think of it as the appetizer to your main dish, whether that be requiring suppliers that are exposed to a higher risk for further ESG data or complementing with a supplier qualification audit. With Worldfavor's automated risk screening process, you will know exactly which suppliers to prioritize and focus on.
Set up your supplier risk assessment in Worldfavor to streamline the entire process in one, dedicated place:
Guide your suppliers on what and how to collect and report their ESG data.

Automatically receive and structure all your suppliers' and sub-suppliers data straight into your dashboard.
The platform categorizes and notifies you immediately on which suppliers pose high risks and why based on our built-in country risk-scoring calculation.
Visualize your suppliers' risk exposure three-dimensionally based on the HQ location, owned operations, and sub-supplier location, to better understand the kind of risks.


Get started today
Risks may lurk at any corner, so don't wait to take action until it's too late. Try our automated risk assessment to identify where you and your suppliers pose the biggest risks to more smoothly and efficiently take necessary action. Get in touch with us today and we will tell you more!
Related blog posts you might like: