Worldfavor's Sustainability Data Framework enables any company to share, collect and take action on their ESG data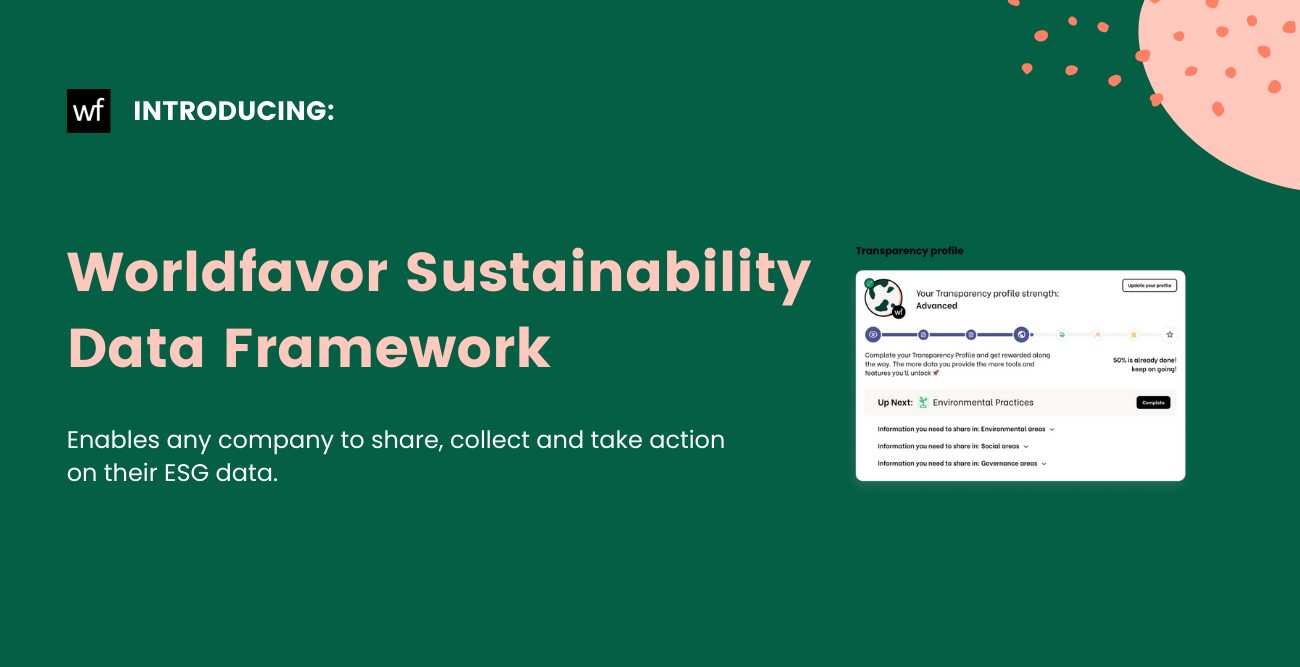 Worldfavor, a global sustainability platform, launches its Sustainability Data Framework to significantly simplify the way businesses access, share and report their Environmental, Social and Governance (ESG) data. With this framework, Worldfavor removes obstacles that have kept small and medium size businesses from getting actionable insights from their ESG data, making collecting and taking action on ESG data accessible for any company, regardless of the size, industry or level of maturity. This is an important step in Worldfavor's mission to make ESG data mainstream and to democratize sustainability.
Up until now, many companies and organizations have been wanting to collect and exchange their ESG data with suppliers, customers, investors, and other stakeholders but many find it challenging to do so in a transparent and standardized fashion. This negatively impacts a business' ability to make well-informed sustainability decisions. With accurate ESG data, it is easier for businesses to follow up with suppliers, taking their sustainability performance measurement and improvement beyond the organization itself, making the impact of sustainability efforts inclusive to their entire supply chain.
Enabling sustainability data tracking and sharing
Sustainability data sharing within the B2B sector is commonly treated with a lack of standardization and efficient data sharing, leading to increased reporting burden for the vast majority. With the launch of Worldfavor's Sustainability Data Framework – all companies (regardless of size or level of maturity) are able to share and collect sustainability data in a simple and effective way.
– Previously, only large companies had the sufficient resources and influence to record and access their own and others' sustainability data. With the framework we built, we are making this possible for virtually any size business, says Frida Emilsson, co-founder and COO at Worldfavor.
The Sustainability data framework builds on existing reporting regulations, frameworks and initiatives, as well as globally recognized guidelines and principles. The framework is created with business-to-business ESG data sharing needs in mind and includes a selection of standardized KPIs and questions any company can – and is expected to – be transparent about. With the framework, Worldfavor enables the companies to manage and collect the qualitative and actual ESG information the company needs from suppliers, clients and portfolio companies, in one place.
Making well-informed decisions based on data from Worldfavor's Sustainability Platform
The Sustainability Data Framework is the backbone of Worldfavor's free-to-join Sustainability Platform where companies can collect, access and share their ESG reporting data. The combination of the Sustainability Data Framework and Worldfavor's Sustainability Platform enables businesses to standardize and collect their data and share it efficiently with different stakeholders, including investors and banks. The ensuing decrease in fractured reporting burdens, and increase in inefficient data sharing, enables any company, bank or investor to make well-informed decisions based on transparent and qualitative ESG data.
Democratizing sustainability and making ESG data mainstream
By combining all relevant ESG data frameworks, the Worldfavor Sustainability Data Framework presents a single transparent source of transferable sustainability data. Companies report on their relevant ESG data: the Environmental, Social, and Governance practices they have in place, from which the framework generates all relevant metrics. This makes the data sets easy to reuse, compare, share, and scale.
For further information, please contact
My Morinder
PR & Communications Manager – Worldfavor
+46 (0) 704-98 14 62
my@worldfavor.com