Worldfavor releases CSRD and ESRS guide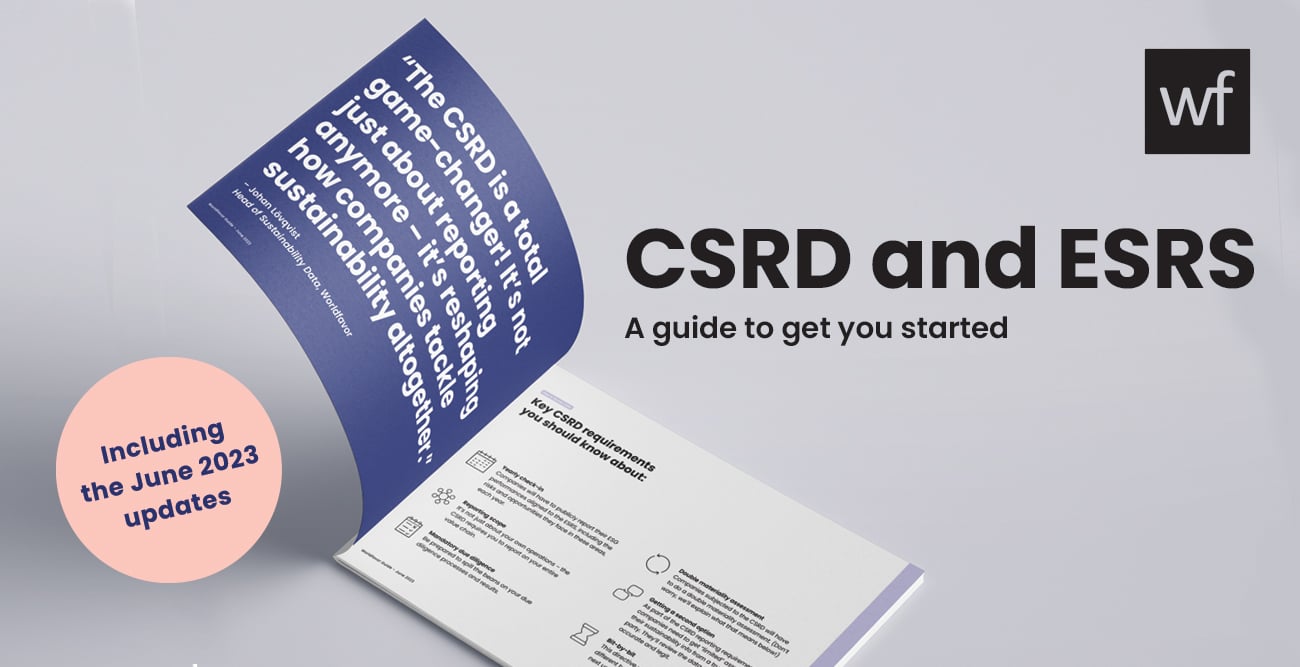 Worldfavor, the global sustainability platform since 2016, is proud to announce the release of the CSRD and ESRS Guide ­– a comprehensive guide covering all the directive's essential requirements, a breakdown of the ESRS standards and an overview of which companies are affected and when.
In January 2023, the EU's Corporate Sustainability Reporting (CRSD) came into effect – making it mandatory for 50 000 companies operating in the European Union (EU) to adhere to a new set of sustainability reporting requirements.
CSRD is a new, updated replacement of the EU's Non-Financial Reporting Directive (NFRD). It covers more companies (approximately 40 000 more) and provides more strict and clear guidelines on what companies need to include in their sustainability reporting.
The main goal of CSRD is to make sure that companies share information about their environmental, social, and governance (ESG) performance in a way that's consistent and easy to compare. This means that companies that fall under CSRD will have to follow the same set of requirements on what they need to share and how they present it.
The directive's requirements on how and what companies should report are laid out in its reporting standards, also known as the European Sustainability Reporting Standards (ESRS).
Following the new legislation, Worldfavor has created a CSRD and ESRS guide, covering everything companies need to know about the CSRD and its reporting standards, including important dates, which companies are affected, and some actionable tips for compliance.

Worldfavor CSRD and ESRS guide – content
– All the directive's essential requirements
– A comprehensive breakdown of the ESRS standards
– A clear overview of which companies are affected and when
– Actionable tips and checklists for companies
To access the CSRD Guide and learn more about how Worldfavor's ESG platform can support companies on their sustainability journeys, follow this link.
For questions or additional information, please contact:
My Morinder
PR & Communications Manager
+46 (0) 704-98 14 62
my@worldfavor.com
About Worldfavor
Worldfavor is a global platform for sustainable business decisions. The company was founded in 2016 based on the idea that every person and business can create a difference by making sustainable decisions. Worldfavor has experienced extraordinary growth since the launch and has seen year-on-year surges in user uptake. Ever since the start, Worldfavor has attracted leading organizations, and the company is proud to have clients in industries from food to finance, ranging from medium-sized enterprises to Fortune 500 companies. Prominent clients include Nudie Jeans (frontrunner in sustainable denim production), IK Partners (European private equity advisory group with Nordic roots, operating across Northern Europe), Systembolaget (the Swedish monopoly for alcohol), Oatly (Swedish food company that produces oat-based alternatives to dairy products), Oakley Capital (private equity investor) and Grant Thornton (one of the world's largest accounting and consulting firms).