Worldfavor releases Anti-Greenwashing Playbook to enhance sustainability communication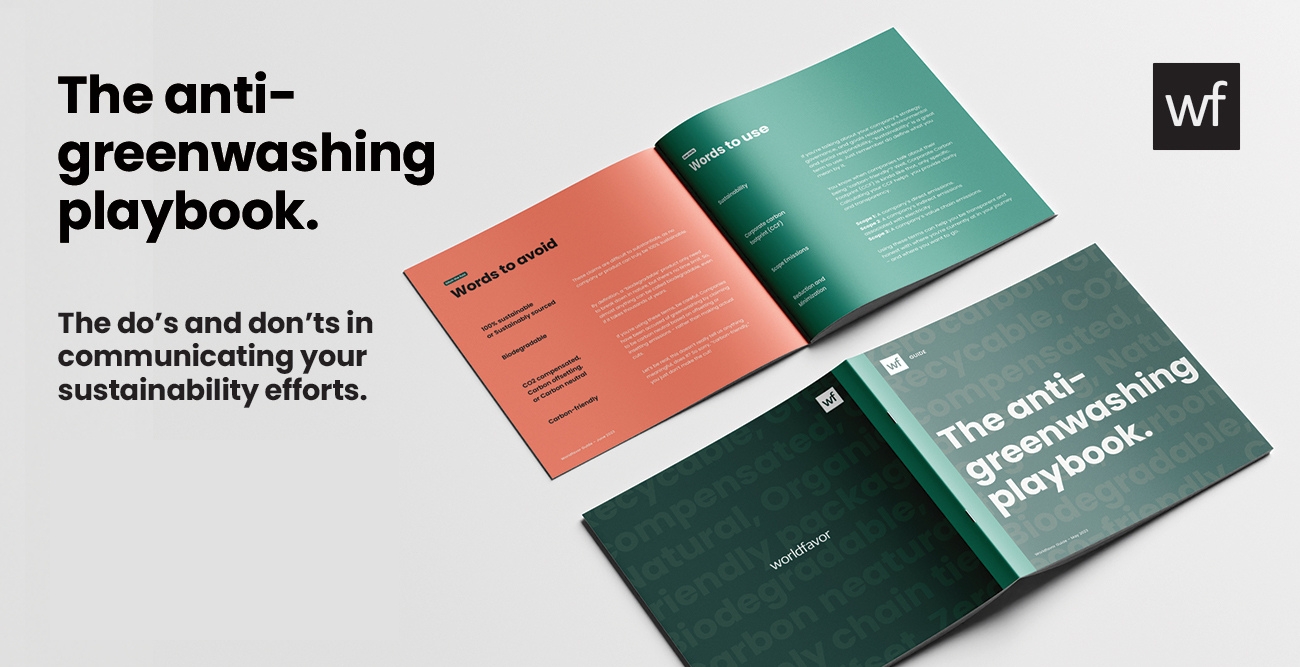 Worldfavor, the global sustainability platform since 2016, is proud to announce the release of its new Anti-Greenwashing Playbook. This comprehensive guide equips companies with the knowledge and tools to effectively communicate their sustainability efforts while avoiding misleading or false claims.
Greenwashing, the act of making exaggerated or deceptive environmental claims, is a problem in the corporate world today. A study by the European Union in 2021 found that nearly half of all environmental claims made online are exaggerated, deceptive, or false. While most companies genuinely strive to do good, they often lack the necessary expertise to communicate their sustainability initiatives accurately.
The consequence, intentional or not, can be detrimental to a company's reputation. Furthermore, it's becoming costly as regulators are increasingly taking legal action to hold companies accountable, with significant penalties being imposed in various countries.
Today, Worldfavor is pleased to announce the release of its new Anti-Greenwashing Playbook, created to help companies navigate the complexities of sustainability communication. Since being founded in 2016, Worldfavor has been enabling organizations globally to access, manage and share sustainability information.
This new Worldfavor resource offers practical advice for avoiding buzzwords, presenting genuine efforts, and identifying potential pitfalls. It covers vital aspects including greenwashing laws, a checklist of do's and don'ts, and strategies for collecting data to support claims of impact.
To access the Anti-Greenwashing Playbook and learn more about how Worldfavor's ESG platform can support companies on their sustainability journeys, visit https://content.worldfavor.com/guide-the-anti-greenwashing-playbook.
For questions or additional information, please contact:
My Morinder
PR & Communications Manager
+46 (0) 704-98 14 62
my@worldfavor.com
About Worldfavor
Worldfavor is a global platform for sustainable business decisions. The company was founded in 2016 based on the idea that every person and business can create a difference by making sustainable decisions. Worldfavor has experienced extraordinary growth since the launch and has seen year-on-year surges in user uptake. Ever since the start, Worldfavor has attracted leading organizations, and the company is proud to have clients in industries from food to finance, ranging from medium-sized enterprises to Fortune 500 companies. Prominent clients include Nudie Jeans (frontrunner in sustainable denim production), IK Partners (European private equity advisory group with Nordic roots, operating across Northern Europe), Systembolaget (the Swedish monopoly for alcohol), Oatly (Swedish food company that produces oat-based alternatives to dairy products), Oakley Capital (private equity investor) and Grant Thornton (one of the world's largest accounting and consulting firms).