Worldfavor launches Emission Calculator to help companies and investors understand their impact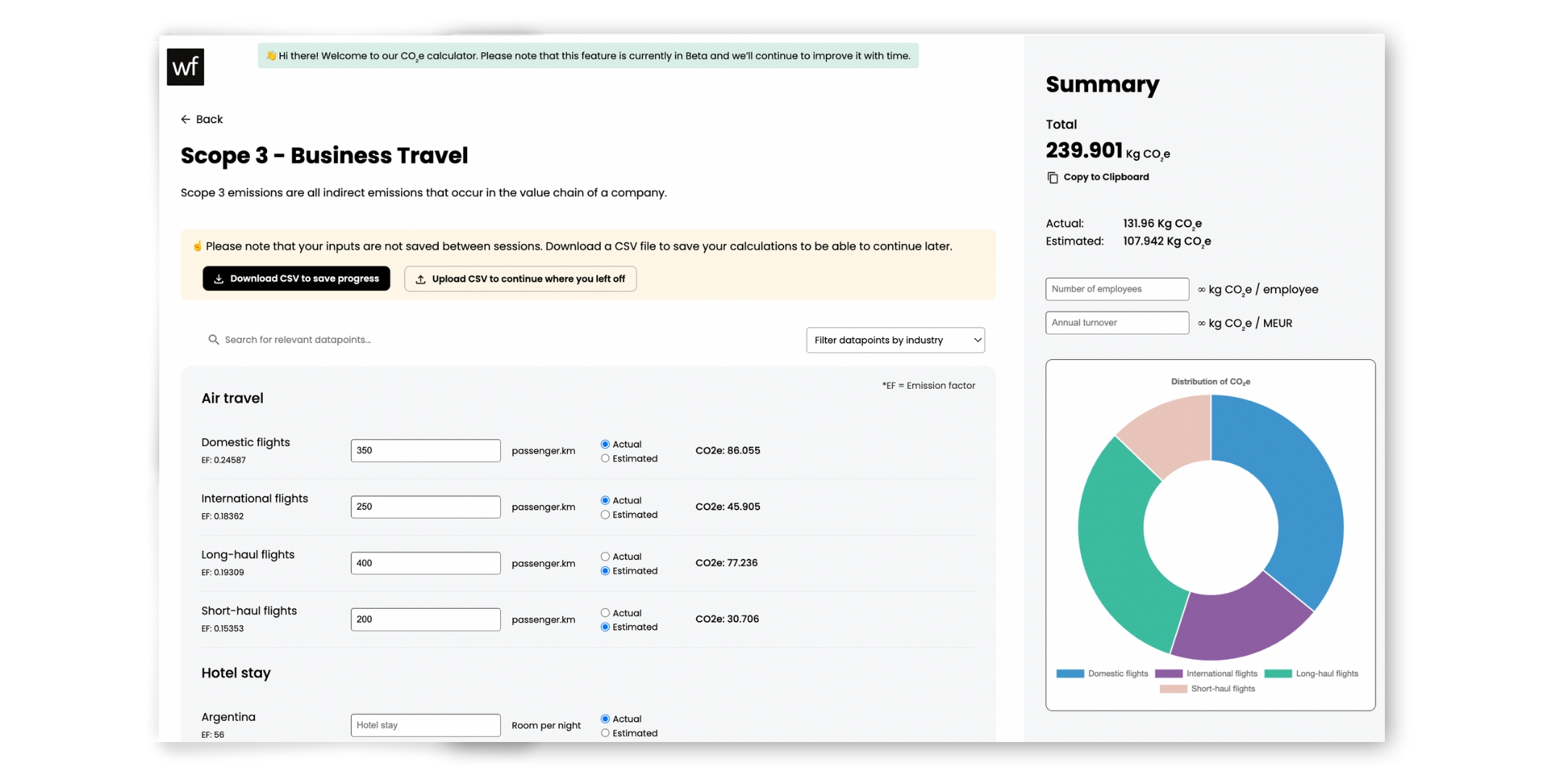 Worldfavor, the global platform for accessing and sharing ESG data, has launched a new tool for companies and investors to obtain vital scope 3 data from suppliers and portfolio companies. With the CO2e Emission Calculator, Worldfavor aims to enable companies and investors to understand their climate impact and take smart action to reduce it.
Private and public stakeholders are increasingly demanding reports on scope 3 data, which are indirect emissions occurring across companies' value chains and investors' portfolios. With the increasing demand, companies and investors are challenged with determining the full extent of their climate impact. To understand and identify areas of improvement, access to accurate emissions data is necessary. However, obtaining this data can be difficult as suppliers and portfolio companies often lack the proper tools, resources, and knowledge to report the required information.
Aiming to solve this problem, Worldfavor recently launched its CO2e Emission Calculator. The tool was designed to help empower suppliers and portfolio companies to take ownership of calculating their emissions, by giving them a solution to understand, measure and report their data.
Since not all emission sources are equally relevant to every business, the CO2e Emission Calculator allows suppliers and portfolio companies to filter data and see which emissions factors are most commonly applied to their sector. It presents the data in an organized and neatly visualized way, providing the ability to view total emissions or focus on the emissions from particular activities. The goal is to offer a comprehensive view of the carbon footprint across all business areas, useful for making informed decisions about where to aim emission reduction efforts most efficiently.
Furthermore, the tool assists suppliers and portfolio companies in exporting and converting their insights into organized spreadsheets that can be easily shared with investors, business partners and other stakeholders.
– At Worldfavor, we believe that sustainability is essential to the success of any business. We are excited to provide the CO2e Emission Calculator to our customers and look forward to the positive impact it will have for companies and investors seeking to reduce their carbon footprint, stated Andreas Liljendahl, CEO at Worldfavor.
For further information, please contact
My Morinder
PR & Communications Manager – Worldfavor
+46 (0) 704-98 14 62
About Worldfavor
Worldfavor is a global platform for sustainable business decisions. The company was founded in 2016 based on the idea that every person and business can create a difference by making sustainable decisions. Worldfavor has experienced extraordinary growth since the launch and has seen year-on-year surges in user uptake. Ever since the start, Worldfavor has attracted leading organizations, and the company is proud to have clients in industries from food to finance, ranging from medium-sized enterprises to Fortune 500 companies. Prominent clients include Nudie Jeans (frontrunner in sustainable denim production), IK Partners (European private equity advisory group with Nordic roots, operating across Northern Europe), Systembolaget (the Swedish monopoly for alcohol), Oatly (Swedish food company that produces oat-based alternatives to dairy products), Oakley Capital (private equity investor) and Grant Thornton (one of the world's largest accounting and consulting firms).