Worldfavor is forming a partnership with Sustainable Advantage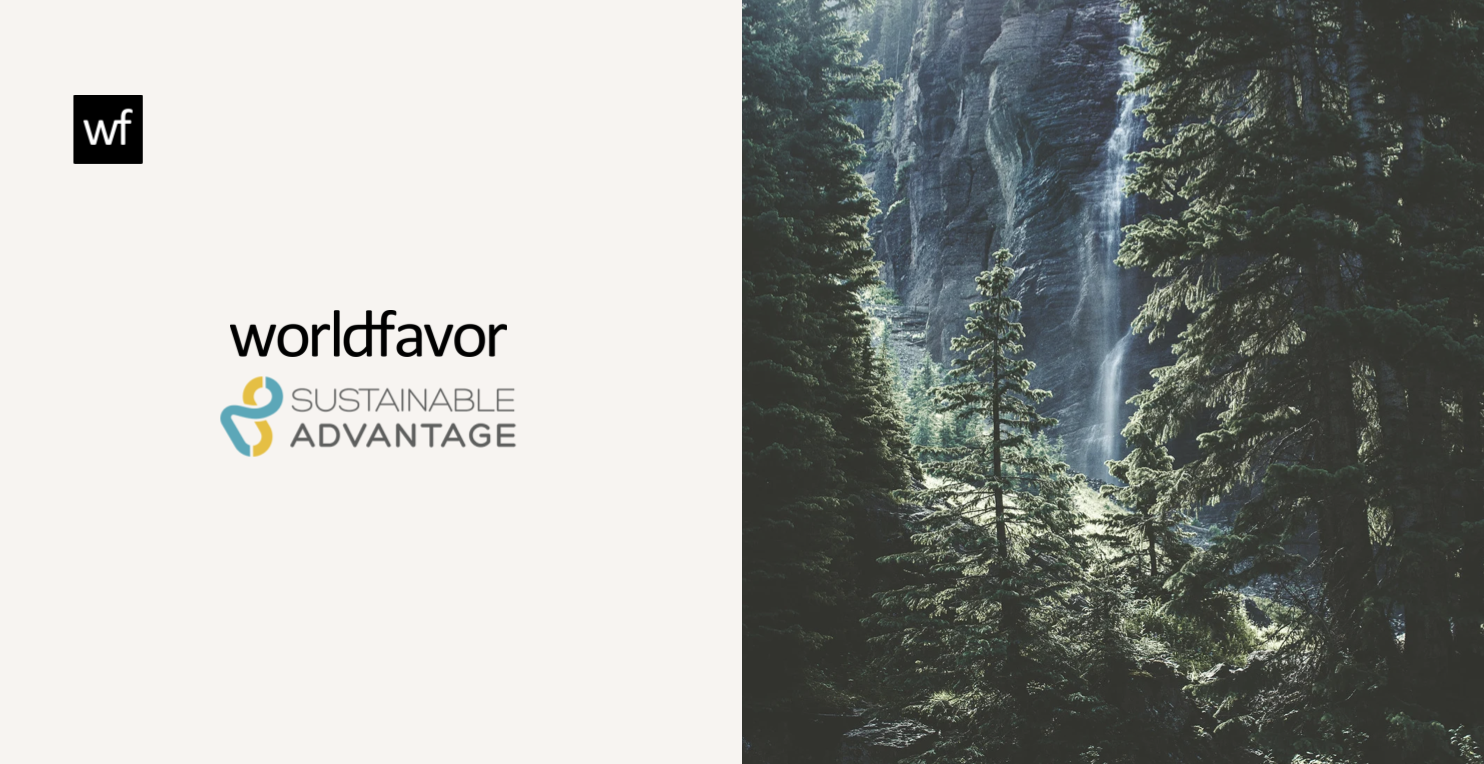 Stockholm 24.10.23

Today, the global ESG platform Worldfavor proudly announces its new partnership with Sustainable Advantage, a UK-based consultancy that has for the past decade been providing a range of services in the ESG arena. Their unique and valuable proposition offers companies and investors hands-on strategic and technical ESG consulting combined with specialist energy and waste procurement and management services. This partnership will accelerate the two companies' shared mission to collaboratively help companies effectively embed robust ESG governance and transparent disclosure practices to showcase the tangible extent of their transition.
Worldfavor is a SaaS sustainability platform that helps companies and investors access, manage, and share sustainability information. Since 2016, Worldfavor's global platform has connected over 30,000 organisations worldwide, enabling insight-sharing from ESG and compliance data. Investors use Worldfavor's Sustainable Investments solution to understand the scope of their impact, meet requirements, and make intelligent decisions based on critical data from portfolio companies in the platform. The solution helps them optimise processes for ESG valuations in line with best practices and sustainability frameworks.
Sustainable Advantage provides tailored sustainability services that deliver powerful insight, transformational strategy, actionable solutions, and engaging reporting and communications. They work with companies in any sector and at all stages of the sustainability journey, from globally listed businesses and privately-owned companies to investment firms and private equity-owned portfolio companies.
Sustainable Advantage's consulting services encompass ESG scoring reviews and action plans, full-scope carbon calculations and net zero pathway strategy, investor buyer and sell-side due diligence, annual branded sustainability reports, and digital ESG platforms that monitor and track the journey. Their unique scoring framework, aligned to international standards and frameworks, helps companies cut through the complexity and navigate the priorities to unlock value creation and adopt more sustainable business models.
As of September, Worldfavor and Sustainable Advantage have joined forces to offer their collective customers a deeper offering to assist them on their journey to a more sustainable future. Satisfying the wave of regulatory sustainability reporting requirements on the horizon set within a fast-approaching auditable landscape will require the consolidation of providers to effectively embed ethical sourcing and corporate social responsibility within the global supply chain.
– Worldfavor was founded as a platform to facilitate the sharing, accessing, and analysis of corporate ESG information. We aim to promote sustainability, and we provide solutions that accelerate sustainability across the value chain, from investors to companies and their supply chains. We're thrilled to announce our partnership with Sustainable Advantage, which will enable even more companies to stay ahead of the curve and achieve sustainable growth through outstanding ESG performance, says Andreas Liljendahl, CEO at Worldfavor.
We are excited to cement our partnership with Worldfavor. Now more than ever, establishing a robust ESG reporting culture is paramount to driving positive change and delivering top-line growth. The Worldfavor platform enables regular monitoring and evidence of progress against ESG targets, adherence to reporting frameworks, and broader accountability for reducing emissions and creating social impact. Our collaboration with Worldfavor ensures our clients receive expert sustainability guidance backed by the latest ESG technology solutions. It's a win-win for our clients – says Sharon Dekker, ESG Director at Sustainable Advantage.
For more information, please contact:
Worldfavor
My Morinder
PR and Communications Manager
+46704981462
press@worldfavor.com
Worldfavor – The Global Sustainability Platform 
Worldfavor is a sustainability platform that enables organisations worldwide to access, share, and leverage data to gain insights and make sustainable action possible – internally and through far-reaching value chains. The platform helps its growing network of 30,000+ organisations understand their impact, fuel action, and stay resilient. Worldfavor's different solutions power its customers to manage all kinds of sustainability data easily, trace impact, follow up on portfolio companies, reduce risk and achieve a sustainable value chain. The Worldfavor sustainability platform was first released in 2016 with the mission to make sustainable business mainstream. Behind Worldfavor is a group of highly passionate people who dream of shaping a world where people, the planet, and the economy thrive together. For more information – please visit www.worldfavor.com. 

Sustainable Advantage
Sustainable Advantage is a leading provider of Energy, Waste and ESG advisory services. Uniquely positioned, with more than 15 years of consulting expertise, our clients gain insight and recommendations to improve their ESG credentials. Since establishing in 2008, the group has more than 80 multidisciplinary experts providing a balanced perspective to clients of all sizes, mid-caps to global players, as well as start-ups and private equity organisations at every stage of their development. Many of our clients' businesses operate from multiple sites in sectors such as education, healthcare, hospitality, construction and manufacturing and have a total of more than 8,000 sites. Our mission is to provide solutions and services that create a material impact on our customers' sustainability journey. For more information – please visit www.sustainable-advantage.com