Swedish sustainability platform Worldfavor raises €10.2mn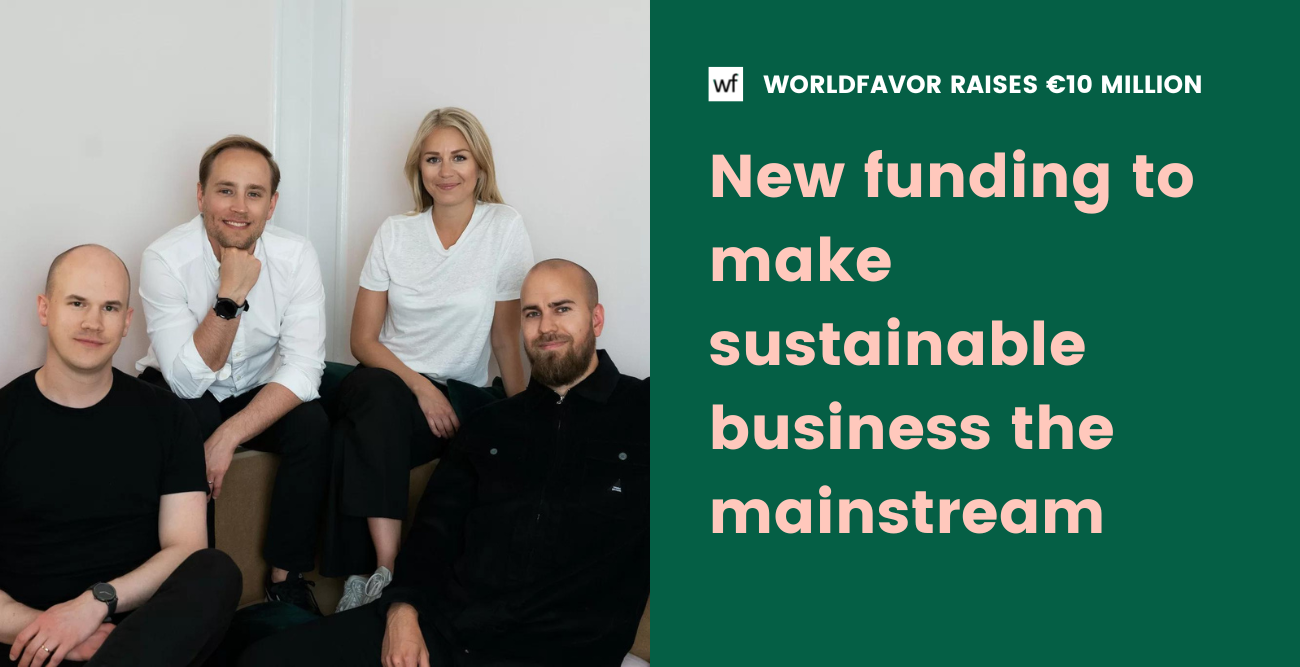 Stockholm-based sustainability platform Worldfavor has today announced a Series A funding round of €10.2mn, that will fuel growth and expansion plans.
The round was led by SEB Private Equity, part of the leading Nordic corporate bank SEB, along with existing investors Brightly Ventures and Spintop Ventures. The equity round means that Worldfavor has raised €13.4mn to date.
Andreas Liljendahl, Worldfavor co-founder and CEO, said of the round: "Worldfavor was founded in 2016 and since then we have found ourselves scaling rapidly. We now work with over 25,000 organisations in 130+ countries, enabling better decision-making, and increasing ESG awareness across global operations. With new funding and strategic partners, we're now accelerating towards Worldfavor's mission to make sustainable business the mainstream."
Worldfavor is a sustainability platform which enables businesses worldwide to easily access, share, and leverage business ESG data – such as GHG emissions, diversity, human rights, anti-corruption and more – to gain insights and make sustainable action possible, both internally and through far-reaching value chains, as well as those of investments. The platform helps its growing network of 25,000+ organisations understand their impact and risks, fuel action, and stay resilient – customers include Oatly, Oakley Capital and Grant Thornton.
Uniquely, Worldfavor makes sustainable action possible by centralising high quality, impactful, ESG data all in one platform – connecting businesses worldwide and making combined action a reality. Worldfavor supports adherence to legislation and staying compliant with laws and ESG-related regulations and frameworks such as the SFDR, HRDD, GHG, GRI and more.
Babak Etemad, Investment Director at SEB Private Equity, said of their investment in Worldfavor: "We're happy to join the impressive team at Worldfavor in their pursuit of raising the bar on sustainability and help organisations share critical sustainability-related information. We are confident that Worldfavor will play a vital role in this industry over the coming decade, and we look forward to supporting them on the journey."
Worldfavor will use the funding to continue its ambitious expansion and market entry plans to fill the global gap of easily accessing, sharing and gaining insights from ESG data to fuel sustainable action. At the same time, Worldfavor will invest in research and development to continually improve the platform, support businesses in all stages of their sustainability journey, and provide users with the best possible product.
For further information, please contact
My Morinder
PR & Communications Manager
+46 (0) 704-98 14 62
my@worldfavor.com