Nordic retail company Adlibris chooses Worldfavor to help manage sustainability in the supply chain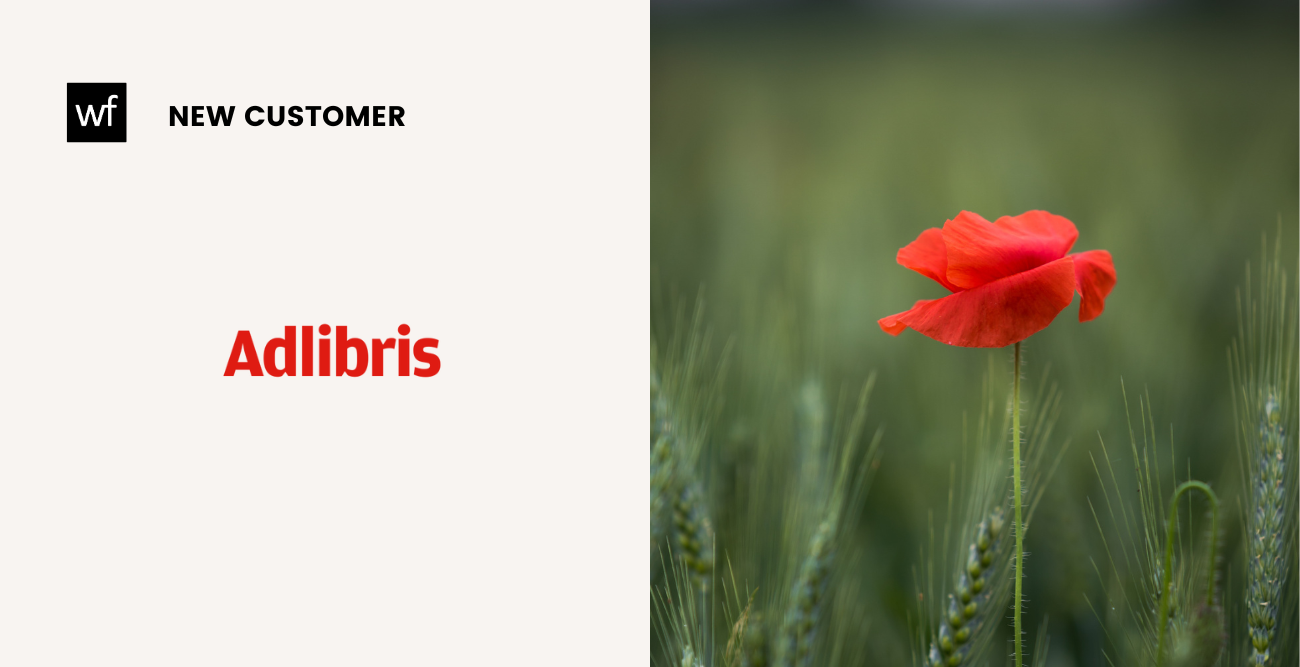 Adlibris, the largest online bookstore in the Nordic region, has partnered with sustainability platform Worldfavor to enhance its sustainability journey through data-driven strategies, amidst increasing demand for ESG reporting such as CSRD and CSDDD.
Worldfavor is a global SaaS platform that enables companies and investors to access, manage, and share sustainability information. The platform has connected over 35,000 organisations worldwide since 2016, facilitating insight-sharing from sustainability and compliance data.

Adlibris, including Campusbokhandeln and Pocket Shop, is the largest online bookstore in the Nordic region, present in Sweden, Finland, and Norway. Adlibris operates two physical stores in Stockholm and Gothenburg. Campusbokhandeln operates ten stores and Pocket Shop operates 11 stores. Adlibris turnover in 2021 was approximately 2 billion SEK.
Adlibris is committed to reducing its emissions, inspiring others to do the same, and contributing to the industry's overall reduction of climate impact by 2030. Adlibris aims to cut its climate impact in half by 2030 and has committed to climate compensation for emissions from 2022 onwards.
To achieve its sustainability goals through data-driven methods, Adlibris partnered with Worldfavor. The collaboration will help Adlibris become more data-driven and meet the increasing demand for ESG reporting, using Worldfavor's Sustainable Sourcing platform to map the supplier's impact, manage sustainability information and enable easier sustainable decisions.
– We are pleased to announce that Worldfavor has established a partnership with Adlibris, the leading online bookstore in the Nordic region that is renowned for its steadfast commitment to sustainability. It's a privilege to join forces with a company such as Adlibris that is really at the forefront when it comes to sustainability. We very much look forward to our collaboration where we will support Adlbiris on their ESG journey ahead, says Andreas Liljendahl, CEO at Worldfavor.
– At Adlibris, we consider our partnership with Worldfavor to be a significant achievement. Our collaboration will enable us to expand and enhance our sustainability initiatives, guaranteeing that the goods we provide are sourced from suppliers who prioritize the well-being of individuals and the environment. This is essential for us to present our customers with a more sustainable selection of products and to decrease our carbon footprint, says Linnéa Hård af Segerstad, Sustainability Manager at Adlibris.
 
 For more information, please contact: 
My Morinder 
PR and Communications Manager 
my@worldfavor.com  
+46 (0) 704981462 
 
Worldfavor – The Global Sustainability Platform   
Worldfavor is a sustainability platform that enables organisations worldwide to access, share, and leverage data to gain insights and make sustainable action possible – internally and through far-reaching value chains. The platform helps its growing network of 30,000+ organisations understand their impact, fuel action, and stay resilient. Worldfavor's different solutions power its customers to easily manage all kinds of sustainability data, trace impact, follow up on portfolio companies, reduce risk, and achieve a sustainable value chain. The Worldfavor sustainability platform was first released in 2016 with the mission to make sustainable business mainstream. Behind Worldfavor is a group of highly passionate people who dream of shaping a world where people, the planet, and the economy thrive together. For more information – please visit www.worldfavor.com.  
Adlibris, contact details
Linnéa Hård af Segerstad
linnea.hard.af.segerstad@adlibris.com
About Adlibris  
Adlibris is the largest online book retailer in the Nordics, and we aim to inspire people for their next reading experience! We offer a selection of over 13 million titles and everything else expected from a modern bookstore. Always with a wide range, competitive prices, efficient delivery, and a focus on reducing environmental impact. Adlibris is characterized by a staff-driven approach and a strong commitment to improving and driving e-commerce forward. Adlibris includes Campusbokhandeln and Pocket Shop, and are a part of the Bonnier Group, which operates in 12 countries with its base in Sweden.