New customer – Worldfavor supports fund manager StartGreen Capital on its sustainability journey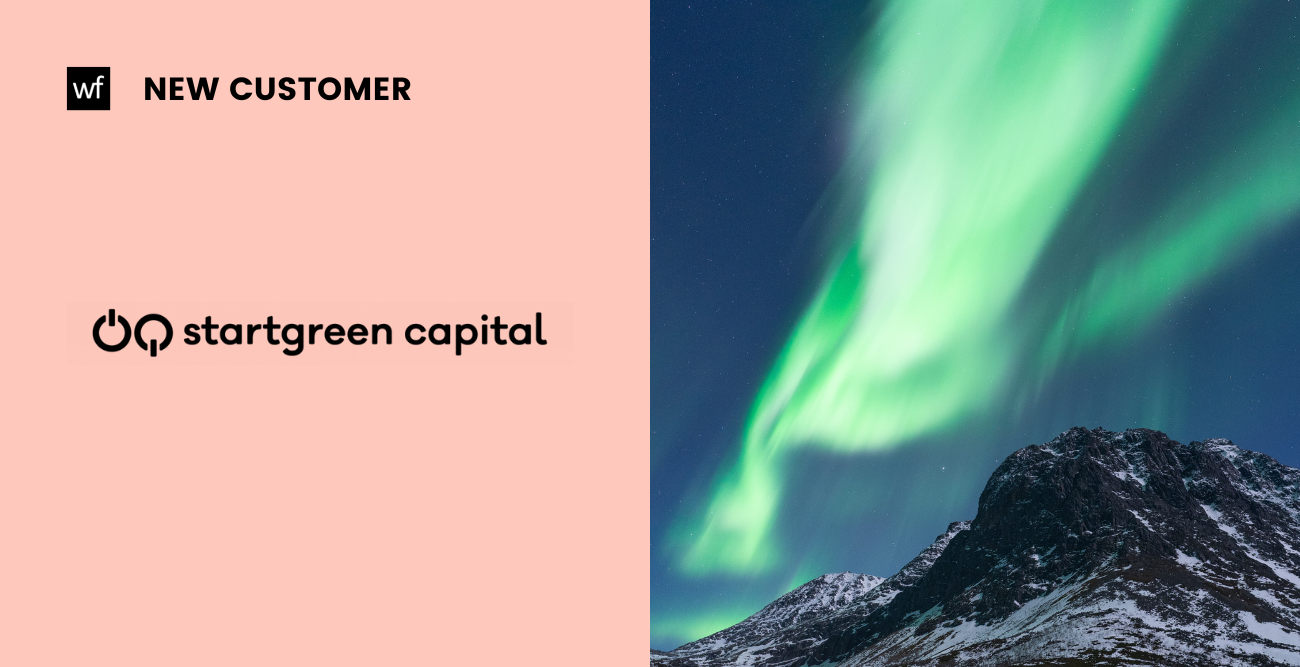 StartGreen Capital, one of the Netherlands' most significant impact fund managers, has chosen Worldfavor's platform to manage its sustainability data. Because the EU Taxonomy and the SFDR require financial market participants to report sustainability data, StartGreen Capital decided to look for a new solution for sustainability data management. They found this in Worldfavor's investor-tailored solution.
Previously, StartGreen Capital worked with Excel reports, but this was no longer a sustainable approach with the increasing scale of operations and additional data points since its inception in 2006. The surge in demand for sustainability data from investors and new sustainability laws and regulations also played a role. When StartGreen started looking for a party that could help them collect, organise, and deploy their sustainability data, they had a clear idea of what they wanted.
"We were convinced that the difficulties of moving on in an old-fashioned way would only increase in the changing sustainability reporting landscape. The surge in demand for sustainability data from investors and new sustainability laws and regulations also played a role. With the SFDR and EU Taxonomy added, it just became too much. It took us too much time to gather and organise data in Excel, leaving us little time to focus on other aspects like impact data analysis and impact strategy, says Dylan Perales, Investment Manager and Sustainability Lead.
A fully grown fund-sized solution
Talking to eight candidates, StartGreen looked at the following KPIs: the ease with which data could be imported and exported, the ability to enter KPIs yourself, how good the integration was with other software, the focus on investors versus corporates, multinationals versus SMEs, the party's IT and sustainability expertise, and price. Worldfavor's investment solution came out on top. It was essential to StartGreen that the solution was tailor-made for investors.
"Other parties focus on large companies and offer solutions where you as a fund manager cannot collect the data of all your portfolio companies in an orderly manner." Perales also mentioned that other investor solutions are still piloting. "Worldfavor offered these features without us immediately needing to embark on a development process", Dylan Perales continues.
Annual impact report with Worldfavor
StartGreen has now compiled its annual impact report using the Worldfavor platform. The platform allows StartGreen's portfolio companies to be involved in data collection. In doing so, Worldfavor provides features to easily see what proportion of the portfolio filled out their data in full, whether any questions were filled out with the wrong metrics, and how companies substantiate their contributions. With this overview, StartGreen can more easily analyse whether the figures are correct. As a result, the quality of their data has improved. StartGreen expects that the demand for non-financial data will only increase, and they are glad they switched to Worldfavor.
"Our portfolio – like the number of data issues – will most likely continue to grow. More themes are emerging, and the acceleration of investment in sustainability is evident. Especially when it comes to large institutional investors, who also need robust sustainability data to account for themselves." says Laura Rooseboom, Co-founder and Managing Partner.
For further information, please contact
My Morinder
PR & Communications Manager – Worldfavor
+46 (0) 704-98 14 62
About StartGreen
StartGreen is one of the most significant impact fund managers in the Netherlands. Since 2006, the organisation has been working with impact entrepreneurs to build a sustainable economy that does not exhaust itself, in which everyone can participate to their full potential. StartGreen believes that the transition to this sustainable economy will be initiated by impact entrepreneurs: people with vision, drive, and guts. People who, like StartGreen, want to build sustainable progress and know this can be done with continuous innovation and a sound business model. This is what StartGreen invests in. These investments show that financial and social returns can go hand in hand smoothly. StartGreen is funding over EUR 450 million in projects and ventures by these changemakers. The benchmark is that they contribute to at least one United Nations Sustainable Development Goals (SDGs), focusing on three themes: the energy transition, the local and circular economy, and diversity and inclusion.
About Worldfavor
Worldfavor is a global platform for sustainable business decisions. The company was founded in 2016 based on the idea that every person and business can create a difference by making sustainable decisions. Worldfavor has experienced extraordinary growth since the launch and has seen year-on-year surges in user uptake. Ever since the start, Worldfavor has attracted leading organizations, and the company is proud to have clients in industries from food to finance, ranging from medium-sized enterprises to Fortune 500 companies. Prominent clients include Nudie Jeans (frontrunner in sustainable denim production), IK Partners (European private equity advisory group with Nordic roots, operating across Northern Europe), Systembolaget (the Swedish monopoly for alcohol), Oatly (Swedish food company that produces oat-based alternatives to dairy products), Oakley Capital (private equity investor) and Grant Thornton (one of the world's largest accounting and consulting firms).