New customer – RFSU AB chooses Worldfavor to help manage its sustainability data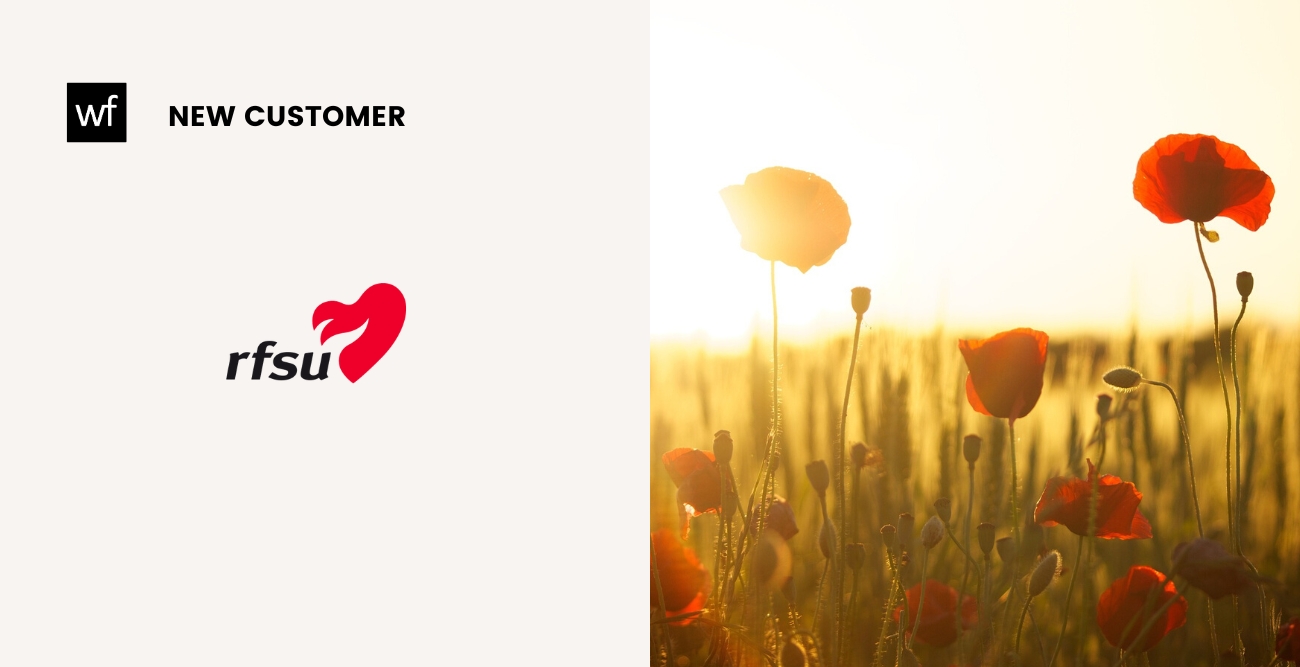 Worldfavor is proud to announce that RFSU AB, the Nordic market leader and manufacturer of sexual health products, is partnering with Worldfavor to manage its sustainability data. With increasing demand and focus on ESG reporting, RFSU AB was looking to become more data-driven on the journey ahead and turned to Worldfavor for a digital solution to help map its impact.
Worldfavor, the global sustainability platform for digitizing, tracking and reporting ESG data, is proud to welcome RFSU AB as a new customer. RFSU AB is a Swedish, market-leading manufacturer and sales company providing sexual health and intimate care products. The company is owned by RFSU – Sweden's most significant organization for sexual policy and sexual education. Since 1933, RFSU has been at the forefront of social sustainability work, supporting civil society and advocating for sexual and human rights globally. RFSU AB was founded to provide safe and joyful sexual health products, with all sales profits funding the organization's mission.
To work more data-driven and methodically toward its sustainability goals, RFSU AB chose to partner with Worldfavor. Worldfavor's digital platform uses the latest technologies to provide a smooth solution for collecting and following up data, in a centralized system and in line with global frameworks. The partnership with Worldfavor will enable RFSU AB's ambition to gain more insight into its impact, keep up with growing demands, and implement strategies to reduce emissions.
– We are thrilled to partner with RFSU AB and support the company's efforts to continuously impact people's lives for the better. We're honored to be chosen as their sustainability platform and look forward to helping them in their important work ahead, says Andreas Liljendahl, CEO at Worldfavor.
With the help of Worldfavor, the company is committed to minimizing its environmental impact by choosing sustainable materials, improving the circular flow, reducing its environmental footprint, and regularly evaluating its processes. One goal is to reduce its CO2e emissions from transportation by 75% by 2030 while maintaining business growth. Currently, RFSU AB is on a journey toward increased digitization, developing products and processes that give people better chances to live healthy and joyful lives.
– Social responsibility is in our DNA since 1933! Partnering with Worldfavor helps us become more data-driven in our work and commitment to social and environmental responsibility. This partnership will help us analyze our impact, work more methodically to achieve our goals, and enable more transparency for sustainable decision-making in the future, says Annika Jerveland, CEO at RFSU AB.
For further information, please contact
My Morinder
PR & Communications Manager – Worldfavor
+46 (0) 704-98 14 62
my@worldfavor.com
About Worldfavor
Worldfavor is a global platform for sustainable business decisions. The company was founded in 2016 based on the idea that every person and business can create a difference by making sustainable decisions. Worldfavor has experienced extraordinary growth since the launch and has seen year-on-year surges in user uptake. Ever since the start, Worldfavor has attracted leading organizations, and the company is proud to have clients in industries from food to finance, ranging from medium-sized enterprises to Fortune 500 companies. Prominent clients include Nudie Jeans (frontrunner in sustainable denim production), IK Partners (European private equity advisory group with Nordic roots, operating across Northern Europe), Systembolaget (the Swedish monopoly for alcohol), Oatly (Swedish food company that produces oat-based alternatives to dairy products), Oakley Capital (private equity investor) and Grant Thornton (one of the world's largest accounting and consulting firms).
RFSU
Anette Otterström
Head of brand & communication RFSU AB
anette.otterstrom@rfsu.com
+46 (0) 707398700
About RFSU
RFSU is a non-profit, non-governmental organization without party-political, trade union or religious affiliation. We run projects and programs to promote access to sexual and reproductive health and rights – both in Sweden and internationally. RFSU plays a leading role in shaping the political agenda on gender equality (as well as SRHR) in Sweden and internationally. In addition, RFSU runs a company, RFSU AB, that makes and sells condoms, lubricants, sex toys and pregnancy tests. RFSU AB has initiated the collaboration with Worldfavor.