Worldfavor is forming a strategic alliance with Aztec Group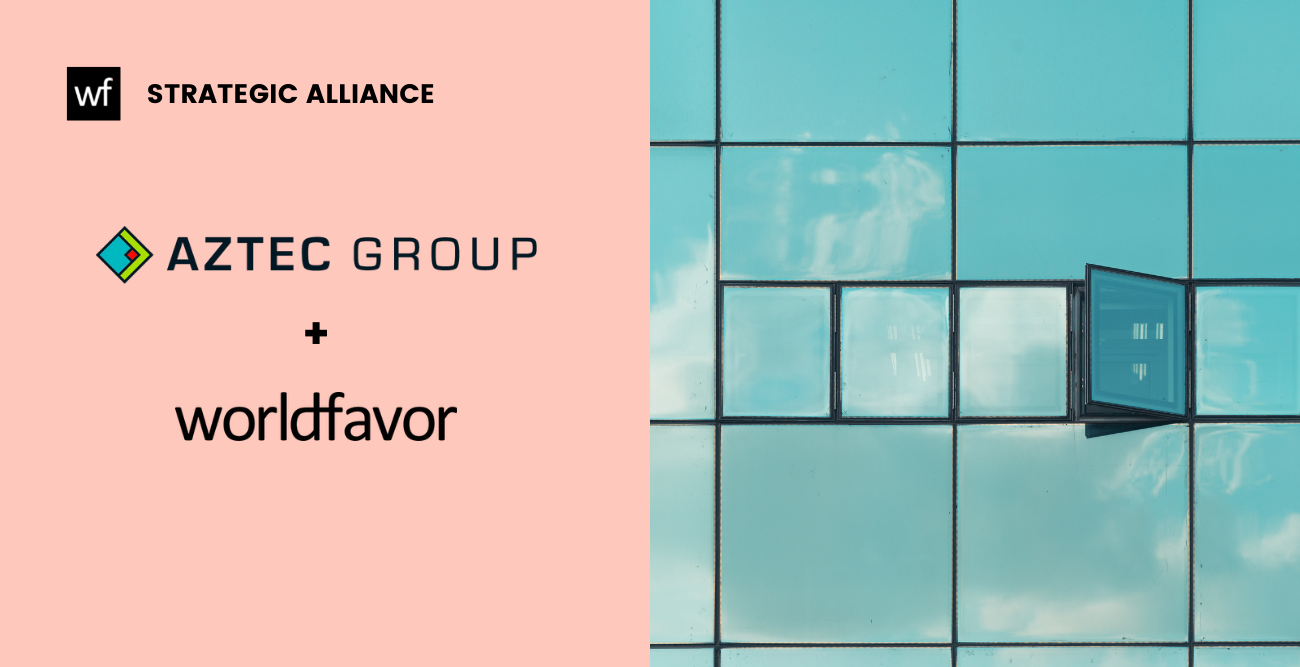 Worldfavor, a global sustainability platform that enables businesses to access, manage and share sustainability information, is forming a strategic alliance with Aztec Group – an independent fund and corporate services provider.

Stockholm. Worldfavor is a global SaaS sustainability platform, digitizing and automating the collection, calculation, aggregation, and visualization for analysis and reporting of ESG data. Investment firms are using Worldfavor's Sustainable Investments solution to gain insight and optimize processes for ESG valuations, in line with best practice and sustainability frameworks.
The Aztec Group is an award-winning independent provider of fund and corporate services, employing more than 1,100 people across Guernsey, Jersey, Luxembourg, the US and the UK. Owner-managed, the Group specializes in alternative investments, administering more than €440 billion in assets, 450 funds and 4,500 entities for a range of clients, spanning the major asset classes including private equity, venture capital, private debt, real estate and infrastructure.
Starting in December, the companies are forming a strategic alliance that will lay the foundation for enhanced ESG performance and sustainable business growth. Underpinned by the deep expertise in alternative asset classes and business sustainability from Aztec Group, the partnership with Worldfavor will build sustainable value through exceptional ESG performance.
The alliance between Worldfavor and Aztec will empower fund professionals to understand their impact across their portfolio, gain deeper insights, act faster, mitigate risk, and make bold investment decisions that fuel long-term growth.
– Worldfavor was founded to be the best platform for sharing, accessing and gaining insights from corporate ESG information. Our mission is to make sustainability mainstream, and with that we offer solutions to accelerate sustainability through the value chain – from investors to companies and their far-reaching supply chains. We are very proud to present this long-term, strategic alliance with Aztec Group that will empower fund managers and investors to stay ahead of the curve and build sustainable growth through exceptional ESG performance, says Andreas Liljendahl, CEO at Worldfavor.
The alliance between Worldfavor and Aztec Group will commence on December 1st. The initial focus of the alliance between the companies will be focused on Worldfavor's Sustainable Investments solution – helping private-equity and venture capital firms to easily track and boost the investments' sustainability performance.
– Sustainability transparency is fast becoming one of the key concerns for our clients, commented James Gow, Chief Client Officer at the Aztec Group. Regulation is clearly a driving force, but we're equally speaking to clients that are responding to increased investor expectations as well as developing their own ESG aspirations as they target long-term, sustainable growth across their investments. This alliance will enable them to better understand the impact of their portfolios and provide a quicker route to insight and decision making.
For questions, interviews or additional information, please contact:  
My Morinder , PR, Communications & Event Manager  
+46 (0) 704-98 14 62