Meet the team: Iida Korhonen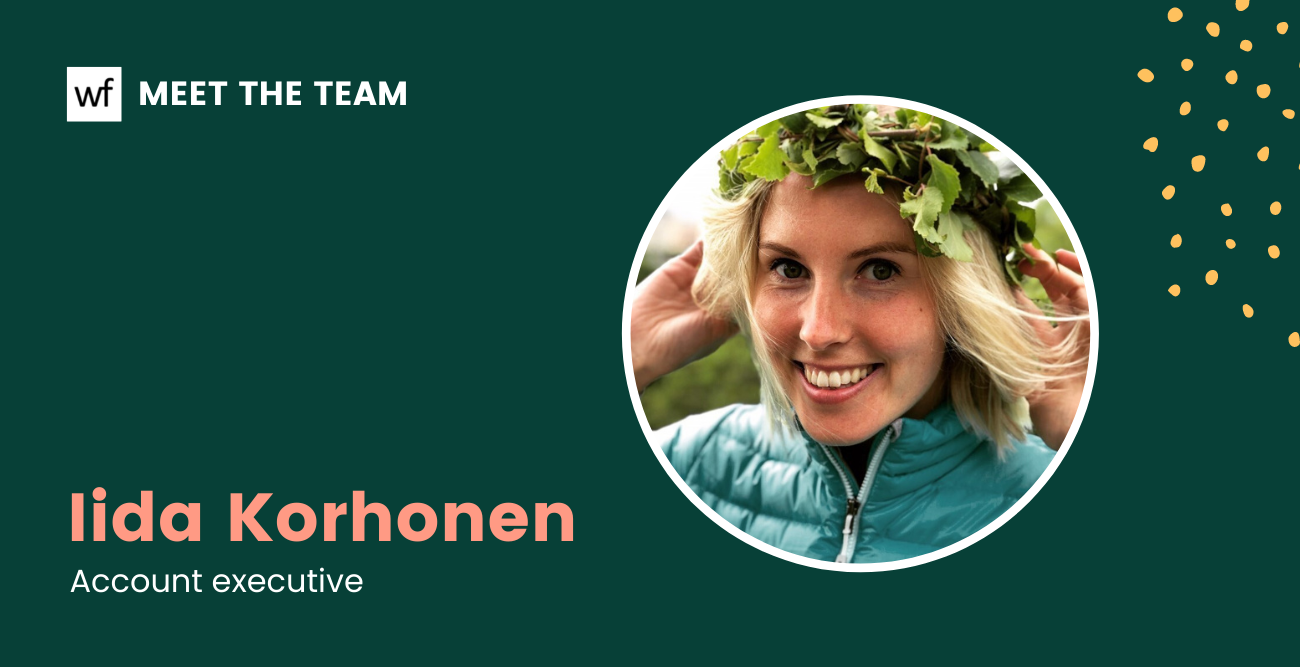 Meet the team is a series where we introduce our fantastic team members and have a peek at how it is to work at Worldfavor. We had a chat with Iida Korhonen, one of our amazing account executives to hear about her experience of starting a new job in special circumstances, how she got here and what her hidden superpower is.
How was it to start a new job in the midst of a pandemic?
I still remember my first day at Worldfavor eight months ago. Such a warm welcome in the monthly team meeting that Monday morning! Starting a new job in the middle of the pandemic can be a daunting experience, but for me it was a great period in my professional life. Worldfavor is a company filled with inspiring professionals, who all feel the pull to work with making sustainability mainstream. During the first weeks I got a deep dive into the world of sustainability and how we help our food & beverage customers in reaching their sustainability goals.
What's your background?
I started my career the food industry in New York, working for a local distribution company. Later on after a year of consulting and entrepreneurship back in Helsinki, where I'm from, I joined a local manufacturing company. Taking care of their sales and internationalisation, I learned the ropes of global sales. After living three years in Stockholm, I joined Worldfavor as an Account Executive.
And what's your job now?
Today, I work with FMCG companies of all shapes and sizes. In my daily schedule I normally have several customer meetings and follow-up on the progress of deals in my pipeline. We have great support mechanisms internally and a suitable amount of meetings. Not too many as you might expect from a Swedish company as a Finn. 😉
What's the best part of being a Worldfavorian?
Besides the mission here at Worldfavor, I fully embrace the empathetic team members and leadership of the company. Our beautiful office in Norrmalm has a special atmosphere. We are working on something important and everyone knows that. I continue to be amazed by what we have achieved during the past months and what we will do in the future!
What's your hidden superpower?
I'm very good at remembering details like numbers and names. I also really like the world of Harry Potter and can remember most of the lines by heart. My fiancé loves to watch the movies with me – oh, I can't wait to read the books to my son! 🧙‍♂️