Highlights from COP26 week 1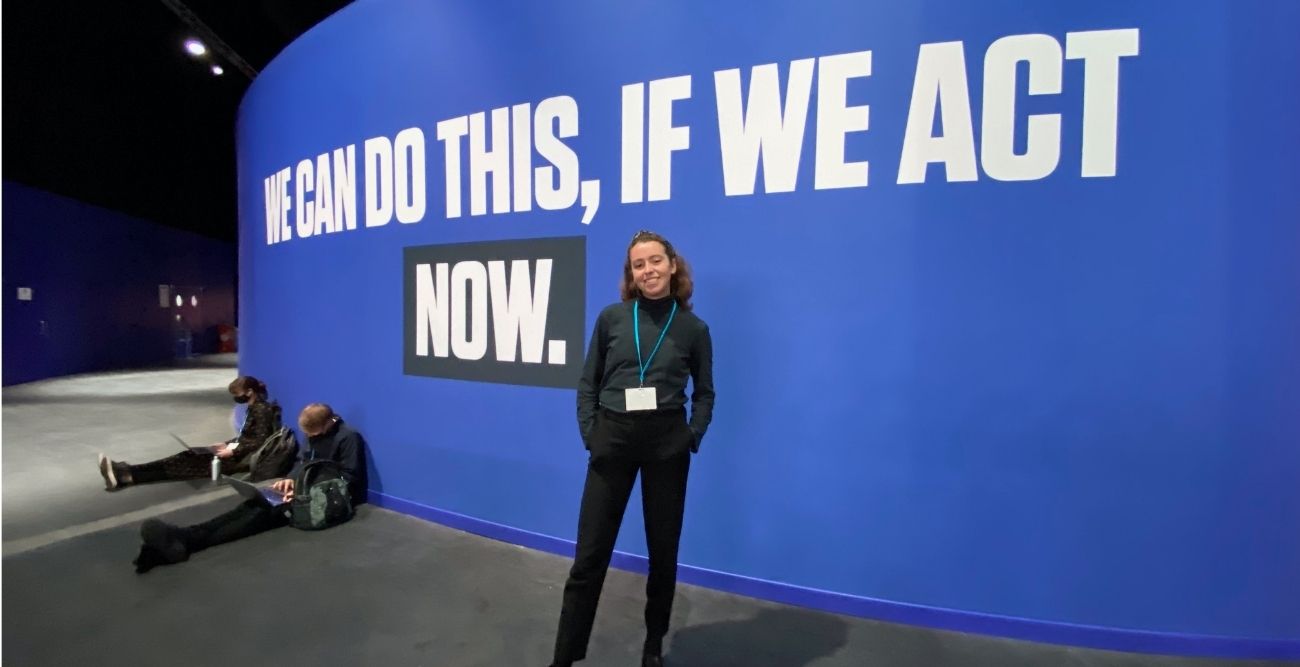 COP26 is almost drawing to a close, with two weeks full of intense discussions and many pledges from leaders and politicians for a new future. Worldfavor's very own Najla Vallander, Sales Development Representative, was on location during the first week experiencing all the key lectures, events, and speeches, getting a first-hand account of everything that went down. Here are her key takeaways from the first week of COP26.
If you could choose one thing, what was your takeaway impression from the first week at COP26?
I've always been aware that collaboration is key to action and is needed to bring about real mobilisation in society, and this conviction was reinforced during my attendance in Glasgow. The summit started off with a hopeful ambiance. People gathered from all over the world under the same roof to discuss one of the most pressing issues of our time. This power of the collective, combined with big pledges and inspiring words made by leaders and prominent figures, contributed to it. This hope, however, is a vulnerable one, as a failure to reach consensus and commit to ambitious targets entail existential threats considering the critical state of the climate crisis.
From what you heard, what are the key challenges to boosting sustainable finance?
David McNeil from Fitch Ratings said it well, we need to recognize that climate risk is a financial risk for companies. And what it boils down to is a lack of knowledge in this area; what most people don't know is that it's cheaper to invest in fossil-free and green tech than to invest in fossil fuels.
There was a recurring theme of companies calling on politicians to put stringent rules on companies to reduce emissions, including carbon taxes as means to mobilise green transitions. Rules and regulations need to be in place in order for there to be real change. As Martin Pei, head of technological development at SSAB puts it, "we need policies that support companies that are leading the way."
One of the biggest challenges for organizations to reach a net-zero carbon transition is knowing which data to collect, what to disclose, and which methods should be used to measure this data. "There is a huge data problem for different financiers" Johan Henningsson, Head of Sustainability, SEK (Swedish Export Credit Corporation). Companies need to disclose all their scopes and need higher degrees of standardisation on how to disclose emissions in order to access finance.
Also, climate finance mechanisms have been confusing and unclear. The aim of reporting is to steer investments to sustainable investments. To report the metrics you need to take action. The whole idea to report is to take action on the corporate level. Customers want clarity from companies, and it will be extremely difficult for companies to still invest in fossil fuels and it will not be good for their reputation.
We know that sustainability reporting is increasingly becoming a requirement globally, what were the main challenges highlighted with this?
The financial sector wants to build a carbon-neutral economy and to monitor the progress towards that we need to be able to measure and report it clearly. The only way to get there is to have common methods and frameworks on what to report on, in order to make it understandable and comparable.
Looking at the last 2-3 years, the focus in reporting has developed a lot, specifically in terms of stakeholder commitment, as management and board members are keen on ensuring that the right things are being reported on and being clear about what is actually being done. However, there are two common pain points for companies when it comes to sustainability reporting:
Data – lack of data, difficulties in collecting data, lack in transparency, and accessing data.

Alphabetic soup & double reporting: reporting fatigue is becoming more and more common with many different frameworks to follow, as well as having to report different data sets to different stakeholders.
By next year (Q3 or Q4) we could expect to have a global baseline for sustainability reporting, proposed by the IFRS (International Financial Reporting Standards). What does this mean?
Common reporting methods & frameworks will improve comparability and measurability of data, and enable companies to be clearer with their stakeholders.

It will simplify company reporting in general and steer us away from the alphabetic soup of the current different reporting standards (GRI, SDSP, TCFP, etc.), and prevent double reporting for some.

A global reporting standard is about bringing the future into the current pricing into equity and bonds, and the core of what the capital market should deliver.
What was your favorite moment?
Taking part in the climate strike and being surrounded by other campaigners and activists marching the streets of Glasgow. Everyone was calling for climate justice and demanding urgent action and ambitious commitments from the negotiations at the COP26.
After attending COP26, do you feel hope that we will see real change?
I'm hoping this summit results in pledges with proper schemes of follow-up and mechanisms of accountability. When looking at previous summits, no commitments have come out that will solve the climate crisis, despite ambitious targets that have been put - but only halfhearted implementations. The world needs actions, not words.
In many cases, climate summits like these have the risk of providing greenwashing leeways for businesses and countries when showcasing commitments. I really hope that this year's agreements are done in an inclusive way and take into consideration human rights and the voices of civil society. It's also imperative that parties most responsible for the climate crisis historically should take responsibility in limiting the effects on those who are hit most hard by it: the young, the global south, and the indigenous communities.
I would like to quote David Attenborough's words during COP26 here, and wish for negotiators to look beyond their short-term goals:
"Is this how our story is due to end? A tale of the smartest species doomed by that all too human characteristic of failing to see the bigger picture in pursuit of short-term goals?"